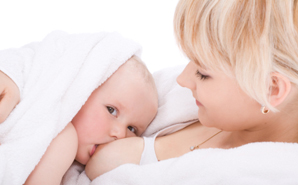 Odds are you never thought you'd have to deal with a breastfeeding patient (unless you're an OB nurse—in that case, you probably have breastfeeding covered).
But with more and more women choosing to breastfeed—almost 74 percent of women breastfeed in the early postpartum period, with 43 percent still nursing at six months—you may encounter a nursing mom on the med-surg floor, in the operating room, in a pediatric facility or just about anywhere else in the hospital.
If your patient has a child, inquire about feeding practices. Your patient may be so overwhelmed with her own medical condition that she forgets to tell you she's a breastfeeding mom—or it may be the first thing on her mind.
Ask her how often she's nursing; that will help you plan your patient's care. A woman who is breastfeeding a newborn 10 to 12 times a day will have different needs than a woman who nurses her toddler at bedtime.
Your concerns here are twofold: maintaining the breastfeeding relationship and maintaining your patient's comfort. Depending on your patient's condition, she may or may not be able to breastfeed while she's in the hospital. Check with her physician, and if the answer is yes, see if someone can bring her child to her throughout the day. Both mother and baby will appreciate your efforts.
If that's not practical, make sure your patient has the time, privacy and equipment necessary to pump her milk. If a breastfeeding mother does not express her milk from time to time, her breasts can become uncomfortably engorged, and engorgement can lead to infection. Pumping also stimulates her milk supply; if she doesn't pump throughout her hospitalization, her milk supply may diminish.
If she's been breastfeeding for a while, she probably has her own pump; ask if someone can bring it in. If not, check with the Labor and Delivery department. They may have a hospital-grade pump she can use (though she'll probably have to purchase her own tubing). The milk itself may be saved or dumped, depending on your patient's situation. Certain drugs pass into breast milk, rendering it unsafe, so check with the physician and pharmacist before advising your patient. If the milk is safe, it can be kept at room temperature for up to six hours, in the refrigerator for eight days and in a freezer for six months to a year.