How life changes when your significant other is a nurse
Stocksy | Sean Locke
Nurses, have you ever thought about what life must be like for your significant other? Kati Kleber, aka Nurse Eye Roll, has certainly contemplated it. Check out her best guesses below (and maybe give your significant other, if you have one, an extra hug today).
If you're living with a nurse, you're probably not getting a hug right away when he or she gets home from work. Especially if they haven't changed out of their scrubs.

"Okay, I've changed, so I'm good now."
When you eat meals with a nurse, you sometimes get nauseated because they forget who they're talking to for a minute and talk about adventures at work.
Really? Did you have to tell me about thaaaat?
When you're married to a nurse, you get minimal sympathy when you're sick.

"RRiiigghhht…you're not dying, so we're not going to a doctor."
And four more ways your life changes when you're dating or married to a nurse…
1. You learn to smile and nod: Whenever you go out with their nurse buddies, you have to occupy yourself while they talk about things you don't understand.
2. You try to wipe that image from your brain. You try your best to forget the stories they tell you so you aren't constantly reminded how fragile life is.
3. You start to talk like a nurse. You pick up on certain phrases and attempt to remember them. "Okay, she's said that many times before…I'm starting to understand what that means."
4. You stop watching medical shows and movies. Face it. Your nurse sweetheart is going to start picking it apart immediately.
The following were submitted by some Nurse Eye Rollers:
@MarkGrzebk: Blessing and a cure…she can make me gag in 2 seconds about the stuff she sees and treats, [and] I have to be on the verge of death to get any medical treatment (she's hard-core), but deep down she has a heart of gold. The way she cares about people is nothing I've ever experienced before. AND I get to tell people my wife has held life in her hands…pretty, pretty incredible; nurses are humble #heroes.
@Hellllooo_Nurse: Chap. 1 – Say goodbye to dinnertime; Chap. 2 – Your bad day will never trump hers, so quit; Chap. 3 – Don't whine, you could be dead.
@jaime_burg: Personality shifts alone with work sched! Work—home exhausted; 1st day off—comatose; other days off—crazy living life.
@Snapple95: Being self-sufficient, we have enough adults who (some) are capable, but too lazy to do yourself. Understanding that sometimes that extra 15-30 minutes of sleep, or a nap on a day off, can really help with stress.
@kdotyrn: My husband always tells me, "Whatever you are about to tell me, don't."
@KelseyEMann: Spouse advice: When I leave my nursing shoes outside, just leave them there. I promise it's not a mistake. #yuck
@MurseWisdom: My wife and I are both RNs and we leave it all at work. We stick to one-word answers about our day. Good or Bad. The rest is self-explanatory or a HIPAA violation. We also work [on] each other's days off so we don't have to use daycare.
Submitted from anonymous: 
1. Please ask husbands to understand that Seattle Grace, aka Grey's Anatomy, is fiction…and nurses (for the most part) are not running into every exam room for a tryst.
2. After working all day in all manner of bodily secretions from patients, please do not expect a hug/makeout session as soon as we come home.
3. Nurses do not want to have affairs with their sick patients. Not all nurses get struck by the ill-named "Florence Nightingale effect."
4. Our "scheduled duty" time is not a cut-and-[dry] 12-hour shift. There is the 30 minutes attached for report and then the code blue that always happens at shift change.
5. Working with male nurses [is] no different than working with females, except less pettiness with work days.
6. Do not call during report and want to chitchat.
7. Cooking/ordering food on a nurse's workday by the non-nurse spouse is totally acceptable and appreciated.
8. Once in while, starting the nurse spouse vehicle [and] deicing windows will only have benefits for non-nurse spouse on days off.
9. Non-nurse spouse: Imagine the grossest/messiest/poop-filled/puss-filled/phlegm-filled/worst-family-drama-filled/urine-filled/bloody day, and that's your spouse's chosen profession. Be supportive.
10. Please, non-nurse spouse, understand that we nurses, despite all listed in #9, love our jobs. It is a calling that we answer every day. We do not stop being a nurse on our days off. We are obsessed and probably got a short circuit.
11. I have noticed in my travels that, sadly, there are a lot of nurses [who] are having marital problems due to bad misconceptions about the nurse/patient, nurse/doctor relationships. Those slutty Halloween costumes and pornographic sketches do not help either.
To read more, visit NurseEyeRoll.com.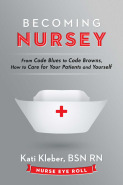 Learning how to be a great nurse at the bedside while maintaining your sanity at home is no easy task. Becoming Nursey: From Code Blues to Code Browns, How to Take Care of Your Patients and Yourself talks about how to realistically live as a nurse, both at home and at the bedside…with a little humor and some shenanigans along the way. Get ready: It's about to get real, real nursey. You can get your own copy at NurseEyeRoll.com, Amazon or Goodreads (ebook).