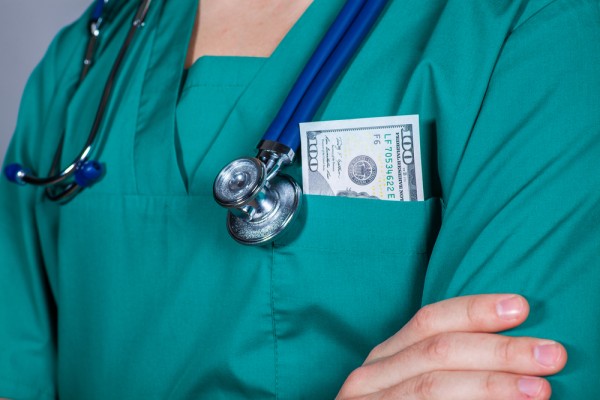 In a world where an increasingly poor job market has left many graduates underemployed and overwhelmed with debt, nursing shines as a beacon of hope. Along with IT, software development, and a few other career choices, nursing continues to offer robust salaries that guarantee a good standard of living.
But how much do nurses actually make? Within nursing, there are different specialties and job titles. Here are the average salaries for different types of nurses in the United States. While there's a good deal of variation, it's pretty clear that nursing is a promising and solid career choice.
What Determines Nursing Salaries?
There's no question that nurses make good money, and there's a good reason for that. They're highly educated professionals who are responsible for their patients' health and well-being. Plus, there's an ongoing nursing shortage that's projected to get worse over the next five to ten years, and there are always jobs available.
However, nursing salaries can depend on several key factors:
Level of education and type of nursing degree.

There are

several different types of nursing degrees

, ranging from two-year associate's degrees to PhDs programs. The higher your education level, the higher your salary can be.
Years of experience.

As you learn and grow throughout your career, your salary will increase.
State and city where you work.

Your local cost of living also has a profound effect on how much you'll make. Nursing salaries in a smaller city like Omaha, Nebraska are smaller than the salaries you'll see in New York City or San Francisco, but they scale according to the cost of living. A job offer in a big city with a considerable salary bump might look great on paper, but it's always important to take the cost of living into account.
The type of work you do.

This, too, has an effect on your salary.
The nursing speciality you pursue.

Some nursing specialties are higher paying than others, which may guide your career choices.
How Much Do Different Types of Nurses Make?
Here's some general information about average salaries for different types of nurses with different types of degrees. Naturally, salaries vary according to location and the cost of living, and a nurse in Los Angeles makes more, on paper, than a nurse in Pensacola, Florida. But, these averages from the US Bureau of Labor Statistics' 2016-17 Occupational Outlook Handbook, can give you a good idea of what you can expect to make as a nurse.
Licensed Practical Nurse (LPNs) – $42,490
Licensed practical nurses (LPNs) take vital signs, compile patients' health information, administer medications, assist with hygiene, supervise nursing assistants, and perform other basic patient care tasks. LPNs often obtain their degree and licensing through fast-paced, accelerated programs.
Some people go through an LPN-to-Associate's degree program, which can generally be completed in one to two years. These programs are geared toward students who want to become an entry-level RN (registered nurse), and are often offered through community colleges and vocational schools. You'll need to take liberal arts courses along with nursing curricula, which can extend the time it takes. For many people, an associate's is a stepping stone for a bachelor's degree.
After graduation, you must pass the National Council Licensure Examination (NCLEX-PN)
Registered Nurse (RN) – $66,640
To become a registered nurse (RN), students must have either a two-year associate's degree, or a four-year bachelor's degree. After graduation, they must pass the NCLEX-RN exam.
Actual RN salaries can vary substantially, depending on your specialty, years of experience, location, and other factors.
Advanced Practice Nurses (AP) – $100,000-155,000
Advanced practice nurses (AP) hold a master's degree in their particular area of focus. They often provide one-on-one patient care, like a physician would. Salaries can depend on your particular specialty, but here are a few examples.
Certified Nurse Anaesthetist (CNA) –

$153,780
Certified Nurse Midwife –

$102,700
Clinical Nurse Specialist (CNS) –

$102,670
Nurse Practitioner (NP) & Family Nurse Practitioner (FNP) –

$102,670
Nursing Salaries Vary, But Are Relatively Substantial
As you can see, salaries for nurses can vary substantially, from as low as $40,000 to over $150,000. If you're considering nursing as a career, and you're interested in finding the highest-paying career track, CNAs are among the most highly paid nurses. However, nursing salaries are far from paltry, and it's a stable and promising career choice.