We've all been here during a particularly brutal heat wave: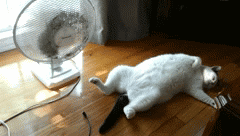 But a 12-hour shift in sweat-soaked scrubs is next-level uncomfortable. And it sure is easy to get there when you're rushing through the hospital on a particularly frenzied, hot and woefully understaffed day.
For the love of scrubs—let us help keep you from turning into a puddle with these simple hacks.
1. Keep an instant ice pack on hand. Whenever you start to see red (mostly because your body is on fire), place the ice pack against your temple, behind your knees/ankles and wrists, and along the inside of your elbows. These are the areas in which your blood vessels are poised closest to the surface of your skin, so they make for an excellent fix when you need to lower your body temperature—and quickly.
2. We know you love your coffee. Like, looooooove your coffee. But, as you know, coffee leads to dehydration, so be mindful of your "cup of joe" count when you're battling humid days.
As for those of you who refuse to abandon your coffee crutch but are put off by the watered-down taste of iced coffee, allow us to suggest that you swap out the offending ice cubes for a few infinitely more potent frozen coffee cubes. All you need to DIY your way to a more satisfying sip is an ice tray and, well, more coffee.
3. It's hard to be selective about what and when you eat, especially when an unpredictable atmosphere tends to encourage eating as much of whatever, whenever possible, just to make sure you don't enter the 11th hour on an empty stomach. That said, it's easy for your body to get all hot and bothered when digesting larger, more substantial meals—especially when the weather count is still sitting at "sizzling."
Avoid the post-eating frenzy sweat-stache by aiming for small, frequent meals whenever possible. If you really want to feel refreshed, here are a few ultra-hydrating foods you may want to make room for in your lunch bag:
Grapefruit
Strawberries
Tomatoes
Broccoli
Watermelon
Cucumbers
Yogurt
Papaya
Butternut squash
4. Stash a small spray water bottle in the staff lounge fridge so you can make a break for it when you start to feel flushed and treat your face to a quick spritz—it'll do wonders.
5. Ladies—we're not afraid to acknowledge that breast sweat is a very real thing, and a problem-and-a-half in the summer when not even your warm-weather scrubs are light enough to prevent the inevitable.
Don't settle for discomfort. Instead, allow us to introduce you to every curvaceous woman's newest bust-buddy: the bra liner. Not only will it help soak up perspiration under your chest, but it will also help keep underwire from barreling into your already agitated skin for a true win-win.
6. Your staff room can be a sacred getaway for everyone on your unit. Make a pact with your fellow heat survivors to keep the break room cool (#teamwork) by closing the blinds and making sure the lights have been switched off when not in use. And sometimes, depending upon the extent of natural lighting, when in use, too.
Even if you only get to log seven minutes or so in that well-kept cave, let it be the most optimal seven minutes of your lunching life.
What's your best summer heat survival tip? Lend it to us in the comments section below!