It doesn't take much to draw a connection between our health and the environment. A smoke stack jutting out of the earth and a cigarette dangling between a smoker's lips not only bear a physical resemblance, but their toxic plumes are having the same detrimental effect on our bodies. It's no wonder, then, that the sustainability movement is something near and dear to the heart of many nurses.
Scrubs Magazine caught up with Erika Kimball, a practicing nurse at California Pacific Medical Center and a sustainability leader, about why sustainability is critical to patient care and what she's doing to transform her hospital into a green zone.
(Editor's note: This article originally was published in 2009; some of the facts below may have changed since then.)
Scrubs: Erika, thanks so much for taking the time to talk with us at Scrubs. Tell us about your nursing background.
Erika: I've been a nurse for 10 years. In my first job, I was a neuro trauma nurse in Tampa Bay, Florida. I became a traveling nurse in 2002 and worked in San Francisco, Los Angeles and Sydney, Australia, and traveled through Southeast Asia for a few months as well. I currently work part-time as a bedside nurse.
Scrubs: When did you first become concerned with environmental issues as they are connected to the healthcare industry?
Erika: Traveling through Southeast Asia opened my eyes to the disparities between healthcare in the United States and in developing countries. When I came home, I started a program in my nursing unit that collected opened, clean and unused supplies for donation to medical operations in need. This experience led me to begin researching green healthcare. I found that hospitals overall are lagging in their care of the environment, and I committed to making a difference in the industry. That led me to where I am today.
I'm now a graduate of the Teleosis Leadership in Green Healthcare program, and I work with the nonprofit group, The Teleosis Institute on community outreach. I'm also a candidate for a Sustainable MBA at the Presidio School of Management. My goal is to use my business degree to create positive change in the healthcare industry—starting with my hospital.
Scrubs: What kinds of programs are you involved in at your hospital?
Erika: I started my hospital Green Team last year. I wrote to my administrators asking permission to do so because I was tired of creating so much waste while performing patient care. I co-chair the Green Team, comprised of green champions in departments throughout the hospital. We work to minimize waste, reduce toxics in the workplace and conserve resources.
We've already made a positive impact through our environmental stewardship, and still have plenty of opportunities to "green" the hospital. Sustainability is a journey, not a project, and we're off to a great start.
Scrubs: Why is this work important to patient care?
Erika: Public health is dependent on environmental health. Pollution and climate change threaten the well-being of every person on earth. We must integrate care of the environment into the practice of medicine to ensure positive outcomes for our patients and our planet. Environmentally responsible healthcare starts with prevention and wellness. Nurses can be good environmental stewards by advocating for healthy communities–organizing cleanup days in parks and neighborhoods, increasing access to local organic foods through farmers' markets and CSAs, pushing for increased alternative transportation in an effort to curb pollution and increase exercise.
Scrubs: Let's talk about some ways in which the healthcare industry can help clean up the environment.
Erika: In the healthcare setting, there's a huge opportunity for waste reduction. The average hospital creates approximately 17 pounds of waste per patient per day, versus the average American who generates approximately four to five pounds per day of waste. Waste prevention starts with resource conservation, but can also be achieved though steps such as switching from disposable to reusable supplies, or utilizing a supply reprocessing service. Waste diversion can be achieved though a comprehensive recycling and composting program.
Also, efficiency retrofits in medical buildings can significantly reduce energy and water use, saving resources and money. Energy savings mean a decrease in the burning of fossil fuels, mitigating climate change as well as pollution-related illnesses such as asthma and cancer.
Lastly, the use of toxic chemicals in the medical environment is counterproductive. Substances such as PVC, mercury and toxic cleaners are known to cause harm to humans and the environment, and should be eliminated from our supply stream. You can find more information on chemical policy reform from Healthcare Without Harm at noharm.org.
As our nation witnesses the escalating cost of healthcare, sustainability is a key to driving down costs. Resource conservation and waste minimization both save significant amounts of money. Sustainability must be included in healthcare reform if we want effective and affordable healthcare.

Scrubs: Why is this work so close to your heart?
Erika: Because good environmental stewardship and good health are interrelated. It's time for the healthcare industry to take an active role in the sustainability movement.
Last year, I had a patient who spent a long time on our unit with a life-threatening illness. The patient and his family were determined to beat the illness, pushing for only the best outcome. I shared with them that we work for the best outcome and nothing less, but that the most important part of our work is about more than outcomes—it's about those moments when the patient, family and care team are all working together seamlessly, dedicated to healing. This is why I come to work every day. This is what I contribute to the sustainability movement as well.
The number one reason why nurses should champion sustainability is because this movement is not unlike the care of patients in need. This time, the one who's sick is Mother Nature. Ecological sustainability will be achieved only through the collaboration of dedicated and compassionate caretakers who advocate for the health of our planet, working together for the highest possible outcome. This is what nurses do every day for their patients. It's a natural progression to extend our scope of care to include the environment.
Our planet is critically ill, and we must now redefine how we deliver patient care, lest we sacrifice the well-being of all of us. This is an exciting challenge, and one we should all rise to meet.
If you have a sustainability story to share, please share it here!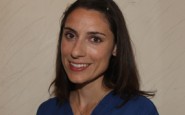 Erika Kimball, RN, BSN, is a graduate of the University of South Florida. She is a candidate for MBA in Sustainable Management at Presidio Graduate School in San Francisco, CA. Erika works in the Transitional ICU at California Pacific Medical Center and Co-Chairs the CPMC Green Team.