How to break into research nursing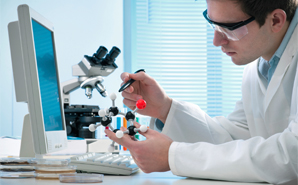 Thinking about changing up your career path or taking on a new speciality? Nursing research is an option, and according to Brittney over at The Nerdy Nurse, it's a pretty interesting one. She recently laid out the specifics behind the career, what it entails and how to get involved. Check out a few of her tips below:
What Is Nursing Research?
According to Wikipedia, "Nursing research is research that provides evidence used to support nursing practices. Nursing, as an evidence-based area of practice, has been developing since the time of Florence Nightingale to the present day, where many nurses now work as researchers based in universities as well as in the health care setting."
Education Required to Work in Research Nursing?
Research nursing means you are a nurse scientist and there is specialized training to help prepare you for a transition to this nursing career. You will be a nurse investigator and will support advancements in both nursing and science. You can get specialized training in this at universities, medical centers and even pharmaceutical companies. Many nurses receive post-doctoral training in a specialty related to nursing research. There are also online programs for research nurse in the early stages of their career. Find out more about training for nursing research at the National Institute of Nursing Research. You can also looking to getting a clinical research nurse certification. You can also learn more about education for nurse researchers at the close of this article.
Nurse Researcher Salary
You may be asking yourself, "How much money can I make in nursing research?" While your goal in research nursing should not be to make the big bucks, it's a question worth asking. According to Explore Health Careers, you can expect to make between $90-100k per year and an excellent career outlook.
Want to learn more about breaking into research nursing? Head on over to The Nerdy Nurse, then let us know your thoughts on the specialty in the comments below.