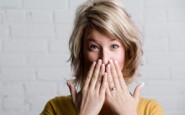 As a nurse, you're bound to see and smell things that will grow hair on your hairs. You'll gaze upon frightening wounds, scads of sick people, blood and your fair share of incontinence. Some of these things may turn your stomach. There's no exact solution to this problem, but here are a few tips that may help.
1. Carry around strong mints to overpower those smells that may turn your stomach. One drawback: You may start to associate mints with illness.
2. Vapor rub applied to the upper lip can block out those nasty smells.
3. Don't look directly at the things that may flip your stomach. If a patient is vomiting, divert your eyes from the vomit. Learn to look indirectly at it by focusing on a point above the vomit, bedpan, etc.
4. Sympathy works wonders. Being able to sympathize with a patient who is expectorating can help keep your mind occupied on something other than "the gross."
Eventually, you'll grow accustomed to the sights and smells of your workplace. The more you learn, the more experience you gain and the more sympathy you feel, the less these things will affect you.