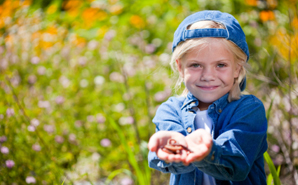 A couple of months ago, we profiled Erika Kimball, RN, BSN, who is leading the effort to turn California Pacific Medical Center, where she is currently a nurse, into a green zone. The article was so popular (see it here!) that we went back to ask Erika for tips on staying green outside the workplace. Here, she shares with scrubsmag.com readers her favorite eco-conscious methods to "green" your home.
One of the first things Erika enthusiastically mentions is something called "vermicomposting."
"In a nutshell, raw food waste goes into the worm bin, and as it rots, the worms eat the rot," Erika explains. "You can use red wigglers (I got mine online at worms.com—no joke!) for worm bins. They stay near the surface and eat their own weight in decomposing scraps every day.
My vermicompost bin is called The Worm Factory. It's really cool because it has worm-size holes in the bottom of the floors, so as the bin fills up, you just add another floor and the worms move to the second story. Eventually, the lower floors turn to worm castings, which are nitrogen-rich nutrients (actually worth some money) that can be added to soil. I plan to give away potting soil for Christmas this year. There is a spigot on the bottom of the bin that drains 'worm tea,' a nitrogen-rich liquid that can be diluted 5:1 and used to fertilize plants. If you're new to vermicomposting, get the book Worms Eat My Garbage by Mary Appelhof. It's a great how-to guide!"
Other green methods that Erika practices at home:
"I'm growing my own microgreens and lettuces in our back sunroom."
"I recycle and compost (it's now the law in San Francisco)."
"I don't own a car. I walk, take the bus, ride a bike and use a car-share."
"I source my veggies from a local farm through an organic CSA."
"I shop vintage, used and local when at all possible: cookware, clothes, home furnishings. I love '60s and '70s fashion pieces that still have the union tags in them." (Get four tricks on how to get the most from vintage clothing stores)
How are you staying eco-conscious at home? Are you going green in the bathroom? How about the kitchen? Tell us at hello@scrubsmag.com or leave your tips in the comment section below.