Humor: Husband pens ode to life with a nurse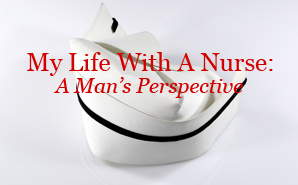 We recently ran across an AllNurses.com thread entitled "My Life with a Nurse: A Man's Perspective." Curious? We certainly were!
From the opening paragraph, we were hooked: "Ah, such mysterious, wondrous creatures are nurses. What treasures lurk beneath those crisp, white uniforms….What young man doesn't have fantasies of discovering those secrets for himself. SCREEEEEECH!!!!!!!!!!!!! Reality check! I've been married to a nurse for more than a quarter of a century, and let me tell you, nurses are not what you expect (and I don't even care what you expect, because you are wrong)!"
The writer, StatBlues, goes on to break down the truth behind such topics as "Nurse: The Health Ramifications," "Your Social Life with Nurses" and "The Nurses Mutual Benefit Network." We've included a few of our favorite musings below:
The Nurse as Sex Kitten:
Any man who lived through the early seventies or has made it a point to rent such famous videos as "Night Duty Nurses" or "Student Nurses" or "Night Duty Student Nurses" or any one of several dozen nurse-centric skin flicks will immediately believe that all nurses have heaving bosoms, just millimeters away from popping out of skin tight white uniforms. You will also believe that nurses always wear white garters, fishnet hose, and stilettos. This, of course, is a handy dress code because movie nurses spend *a lot* of time hopping in and out of patient's beds.
The reality is that most nurses wear scrubs–shapeless, draping hunks of cotton that could cause you to breeze past Pamela Anderson without a second look. Shoes are white and chunky with blobs of things on them better left unexplored. Socks replace white hose and garters, and when is the last time anyone saw a nursing cap? Graduation, perhaps?
The Nurse as an Angel:
If you want to hear the latest gross jokes, just find a nurse. Some uninformed males seem to think of nurses as angelic creatures: demure and loving, a cross between a nun and their mom. Well, hate to bust your bubble, guy, but as a group, nurses are some of the rawest folks you'll ever run into. I don't care how sweet and demure they may look on the outside; inside is someone who has seen things that would gag a maggot, break your heart, or drive a normal person nuts. So most nurses develop a very wicked sense of humor squarely lodged in the black-to-sick side of the scale.
Also, in case you are looking for angelic sympathy for the little boo-boo you had in the shop, forget it! Let's say as a typical male klutz, you manage to saw your finger off. You go running to your nurse wife who is on the phone with a nurse friend of hers. As she continues to talk to her friend, she gives the stub a good eyeballing, slaps a towel on it, takes out a baggy to put the severed digit in, and tells you to get some ice while she is explaining to her friend that her dummy husband just sawed his finger off. As you stand there bleeding profusely for 15 minutes she calmly finishes her conversation as though nothing is going on until finally she says, "Well I guess I better get him to the hospital." She hangs up the phone, looks at you, sighs and calmly says, "Let's go."
You have just learned an important lesson. On the nurse scale of emergencies, yours is about a minus 9! As my wife has told me, "When you are on a ventilator, with six drips running, your head down and your feet up, then you're sick. Anything less than that isn't worth getting excited over!"
To read the full rundown, head on over to the AllNurses.com thread. But once you're done, be sure to come back and tell us your favorite part and what section rings most true for you!