Humor: "Nursing Problems" Tumblr blog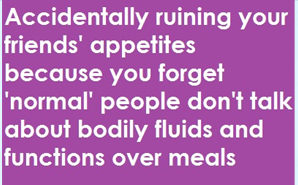 Nurses, have you discovered NursingProblems.Tumblr.com?  We've been loving how "Nursing Problems" takes your struggles, annoyances and stresses and turns them into images with (mostly) humorous asides about what it's like to be a nurse.
You can submit your own stories or insights through the "askbox" link at the top, and your comments might get made and put on the site! We'd also love to hear your thoughts here as well, so be sure to drop us a line in the comments below with a quippy joke, pet peeve or sweet perk about your job.