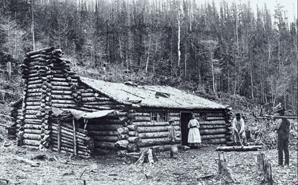 Sheila was born on September 21, 1934, on a small homestead farm on the plains of midwestern Canada. She was the second of seven children. They grew up in a one-room log cabin, farming grain and livestock.
Sheila and her family lived the life of rural homesteaders: no electricity until Sheila was 11 years old ("It'll come down the road soon enough," her father said), and no indoor plumbing until the "big house" was built a year after Sheila had left home for the big city.
She went to the local one-room schoolhouse (by horse-drawn sled in the winter), helped on the farm and idolized her Auntie Beulah, a nurse for the Red Cross who worked in Korea helping Eurasian orphans find homes with families in Canada. Sheila left home at age 17 to live with an aunt in the nearest city so she could attend 12th grade, as the local school didn't have that grade and most kids finished school by correspondence.
She decided to go to nursing school because the only other options for women were working in an office or a grocery, or becoming a teacher. She didn't want to be a teacher because her mother was one—and who wants to do what their mother did?
She attended a diploma school in which the students staffed the hospital and were managed by senior nurses. Sheila found she had an aptitude for nursing (although she hated working the midnight-to-seven shift she was so often placed on), and graduated with honors in 1956.
Sheila traveled around Europe, learned to ski, made friends—and decided to move to New York "for the adventure" in the 1960s. She intended to stay for only six months and then head on to San Francisco, but ended up staying in New York for the rest of her life.
As the head nurse of the critical care unit of a major metropolitan hospital, Sheila found herself in charge of the nursing students that passed through the unit. She fostered the careers of hundreds of nurses in this way. She also earned a BSN from Columbia University.
In the mid-'60s, she was one of a handful of nurses in the United States who specialized in cardiovascular medicine, assisting cardiologists and surgeons at her hospital in open-heart surgery when pacemakers were just becoming routine. She also worked in one of the first cardiac catheterization units in the U.S., and worked with medical engineers and manufacturers on designing cardiac catheterization equipment.
In 1970, she got married and had her first daughter; in 1974, her second. She worked private duty at night for years when nurses were underpaid and had no benefits so she could be home with her children during the day, and began work on her master's degree in nursing. When the kids finally went off to school, she decided she needed a career that allowed her to be on the same schedule as her children, so she did what she thought she'd never do.
She taught nursing.
For 30 years, she taught basic and critical care nursing, instructed on nursing units and developed a "Math for Meds" course that is used in many nursing schools. She pioneered the use of computers in the hospital and for learning, and obtained a postgraduate certificate in Nursing Informatics. She estimated at one point that she had taught more than 1,360 students how to be nurses. One of those students was me.
Sheila passed away on October 7, 2009. She was at home in her own bed, at peace and in no pain. Both of her daughters were at her bedside. She leaves a large nursing legacy—hundreds of students who will remember every word she taught as they use the information she imparted every day in their careers as nurses. They will remember the contagious and boundless enthusiasm and joy she found in all aspects of nursing: caring, learning, teaching, innovating. They will remember a woman who had an almost unlimited knowledge of nursing, who pushed and encouraged them to succeed at their careers in nursing for years after they left the school.
I'll remember her as Mom.
Scrubs also recommends from GuitarGirl RN:
Haiti happy endings
Haiti II
Pictures of Haiti