Inside the Spring 2010 Issue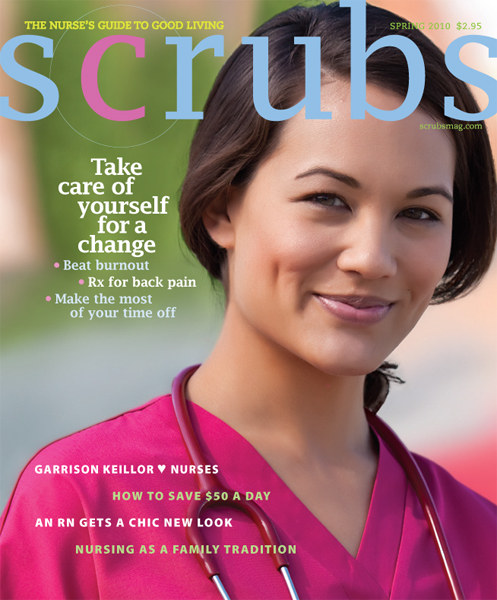 FEATURES
---
The Battle Against Burnout
Death and disease may be all in a day's work, but they can take a terrible toll on your soul. Although it's never easy, sometimes just the simple pleasures of life off the floor can provide the perfect antidote. By Theresa Brown, RN
Generations of Caring
Why do nurses fall in love with one another? Is it nurture or nature that explains why their children hear and heed the calling, too? Here, five portraits of the pedigree that gets into the heart and blood of the people who pursue it. By Catherine Ettlinger
Bouncing Back from Back Pain
You're helping a patient, when suddenly (yikes!) you're the one in agony. But not for long. Experts and nurses-who-know help you go from down and out to up and about. By Daryn Eller
PLUS: Being Proactive About a No-Lift Policy • The Dos and Don'ts of Stretching and Strengthening • Three Ways to Outwit Back Pain
Learn more ways to prevent pain here on Scrubsmag.com.
How to Save $50 a Day
If you think a nurse's salary won't let you bankroll a bundle, take a look at how a few strategic nips and tucks can add up…big! How does $18,250 a year sound?
Nine Dreams and Counting
She left Guinea at 18, but Bebe Sylla never forgot home. Today, the oncology nurse from Houston brings better healthcare to her native West African nation as the driving force—and face—behind American Friends of Guinea. So when Scrubs heard she wanted a new look to reflect her role, we were only too happy to oblige! By Millie Topper
A Dose of Humor
Sometimes laughter really is the best medicine, as the Prairie Home Companion host learned from his nurses after being "bitten in the butt by mortality." By Garrison Keillor
Hear Garrison Keillor's musings on nurses.
Off Duty at Odd Hours
Midweek weekends? Dinner at 8 am? If you're more likely to see the sun rise than set, here's how to make the most of your free time—whenever it may be. By Nina Malkin
VITAL SIGNS
---
News for Nurses on Life, Style and Work
• Healing Sounds • Cafeteria Commendations • Love It? Want It? Buy It! • Nurses No More • Day at the Museum • What's on Nurses' Nightstands? • Tell Us What You Think
Online features:
IN EVERY ISSUE
---
Editor's Letter
Scrubs Chic Dress to Express – Newest trends for spring include tactile textiles, 'toon-time prints and beautified badges. Get the latest scrubs style tips, including DOs and DON'Ts, outfit selections, and coming soon our Scrubs Stain Removal 101 tool!
Expressions True Colors – An RN's avocation informs her vocation, and vice versa. Submit your own art for inclusion in our next issue of Scrubs Magazine!
---
Where to buy
Find a retailer
Want your own copy of Scrubs Magazine? Print editions are now available at retailers nationwide!