Inside the Spring 2011 Issue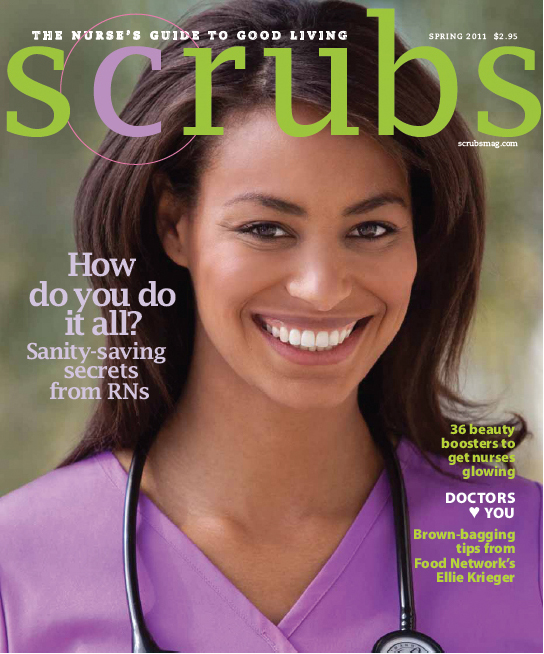 FEATURES
• All in a Day's Work and Play
Three multitalented, multitasking RNs reveal their secrets to managing not just a career and family responsibilities, but a whole lot more. By Renee Schettler
ONLINE: Take the stress test! If you find that stress is overwhelming you, you can find tips and solutions from our stress relief roundup!
• Beauty Boosters
When work gets you down, keep your spirits up with dozens of savvy tricks to counter dry hospital air, harsh lights, even bad hair days. By Hillary Quinn
ONLINE: More skin and body beauty ideas by and for nurses!
• Doctors ♥ Nurses
They may not express it every day, every week or ever, but MDs really do appreciate all that you do. By Daryn Eller
ONLINE: We seriously had to wipe back a tear when we read these doctor tributes to nurses shared with Scrubsmag.com.
• Homemade and Good to Go (From a Pro)
The Food Network star and best-selling cookbook author provides recipes and tips for brown bag meals that'll power you—healthfully!—through any shift. By Ellie Krieger
ONLINE: More brown bag meal ideas plus a special "double duty breakfast for nurses" from Ellie Krieger!
• Why the Professor Became a Nurse
Only after leaving the hallowed halls of academia for the hectic halls of the hospital did this RN finally find her true calling. By Theresa Brown
ONLINE: Meet more second career nurses, like the former Buddhist monk or Wall Street banker…
• Please Make Me Over!
Nurse Jackie and Zoey go from so-so to sensational thanks to stylish new scrubs.
ONLINE: See all of our Nurse Jackie articles and polls here!
IN EVERY ISSUE
Vital Signs – News for Nurses on Life, Style and Work
Editor's Letter – How do you do it all?
Expressions Less Stress, More Art Submit your own art for inclusion in our next issue of Scrubs Magazine!
WHERE TO BUY
Find a retailer
Want your own copy of Scrubs Magazine? Print editions are now available at retailers nationwide!