Inside the Winter 2011 Issue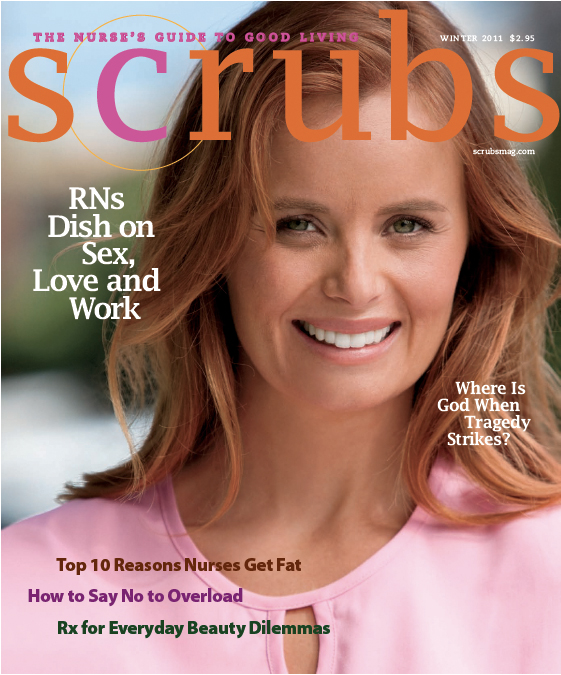 FEATURES
---
Nursing a Marriage
Three RNs examine their love lives, revealing lessons learned, lines drawn, even how to have great sex. With articles from Theresa Brown, Patricia Harman, and Tilda Shalof.
Quiet Please!
Tune out chaos and key into calm with nurse-tested strategies for finding peace of mind and body. By Daryn Eller
• Try our "Meditation in Minutes" tool to create personal calm during your shift.
Are You on Overload?
No need to let work overtake your life. A few simple steps are all it takes to ensure that doing what you love still means loving what you do. By Deb Roffe
Keeping My Faith
When one patient's tragedy becomes another's miracle, a longtime worshipper questions the meaning of God—and is surprised by the answers she finds. By Cheyenne Haven
• Here, 25 prayers for nurses. We pulled from many traditions to give you prayers that we hope will work for any nurse of faith.

Top 10 Reasons Nurses Get Fat
How to outsmart the career-specific challenges that stand between you and your thinner self. An article excerpt can be found here. By Gary Scholar
• Can fat nurses be good nurses? Weigh in here…
Decisions, Decisions
Sleep or work out? Exfoliants or antioxidants? Glossy or matte lips? Scrubs sussed out all the information a nurse needs. An article excerpt can be found here. By Lesley Alderman
VITAL SIGNS
---
News for Nurses on Life, Style and Work
• Yoga for Nurses • You Know You're a Nurse When… • Etiquette Q&A • One Nurse, One Hospital, 50 Years and Counting…. • What's on Nurses' Nightstands? • Do Nurses Give Birth to Better Kids? • Helping Nurses with Disabilities
IN EVERY ISSUE
---
Editor's Letter
– Meet some of our contributors.
Expressions The Healing Power of Painting Submit your own art for inclusion in our next issue of Scrubs Magazine!
---
Where to buy
Find a retailer
Want your own copy of Scrubs Magazine? Print editions are now available at retailers nationwide!