Inspiration: Arkansas nurse honored after 50 years of nursing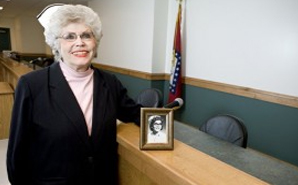 Doris Scroggin of Vilonia, Arkansas became a nurse because, well, she wanted to be one! We know this probably seems a bit obvious as far as life choices go, but we must remember that 50 years ago, women didn't as readily march off to work. We're happy she did, since this year marks a huge anniversary in her relationship with nursing. The treasurer for the Arkansas State Board of Nursing, 72, was recently honored by the board with a certificate for 50 years of meritorious service.
"I was kind of shocked, because somebody had to look it up that I'd been in it 50 years," Scroggin told Arkansas Online. She hesitates to say she's retired and remains in a "pool" to work at CARTI in Conway, if needed. She's also the recorder/treasurer for the city of Vilonia.
"You just really have to be a people person and try to do what's best and try to help people," she said about nursing. "There's been so much improvement in the type of care nowadays than when I started in the late '50s. I hope we'll be able to continue to improve."
Source: Arkansas Online