"It's Nursing, Every Time" – Did you read it?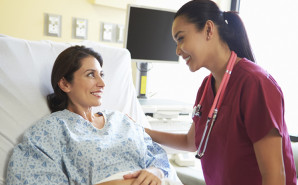 In a recent article for The Huffington Post, nurse Erin Lucas explained why, even through all the heartache and stress, she continues to love nursing. It's pieces like this that we love sharing, as we hope the inspirational words help uplift and motivate you on your toughest days on the job.
Here are some excerpts from the article:
Like most, I entered nursing school wide-eyed and ready to take on the responsibility of caring for those who needed me most. I was in awe of all the knowledge I was expected to absorb and the experienced nurses who made each move look like second nature. I knew within my heart I had found my calling, my place in this world, and after graduation I was ready to dive face first into my new job.
She explains her choice:
I chose nursing because I wanted to make a difference; I wanted to come home knowing I did something right or brought a smile to a patient's face. I was unable to accept a nine-to-five job for fear I would become complacent and lose the need for action, for that human connection to others in order to be satisfied with my career.
And deals with the heartaches:
There are orders, there is screaming, there is pain, there is chaos. For every second of my 12-hour shift, there is something. Having shifts like these, day in and day out, can slowly fog over the rose-colored glasses I wore of the beginning of my nursing career, when I knew I was going to make a difference. After being cursed out, kicked at, spit on and told, "you're just a nurse," I sometimes begin to forget why I decided this was my calling. 
She reflects on why she always comes back:
It's because of these moments that I have been able to hold someone's hand while they let their loved ones pass into peace, cried with family members because in that moment, I wasn't just a nurse — I was a person who felt and shared their pain, pulled up a chair to hear a story from an elderly person who just wants someone to listen, stood with a wife trying to explain how we were doing every possible thing in our power to bring back her husband. How many people can say this? How many people can say they are with people in their most vulnerable and devastating moments? How many of us can leave this world knowing we did at least one thing right? That we were there, that we always will be there, despite the chaos, despite the bone tiredness, or how much we wish we could be home with our own families, we show up for our patients, for our team, for ourselves.
Read the rest of the article here, and then tell us: Why do you keep returning to work as a nurse? What inspires you? Share your thoughts in the comments below.