Katie Duke's Careisma Scrubs Review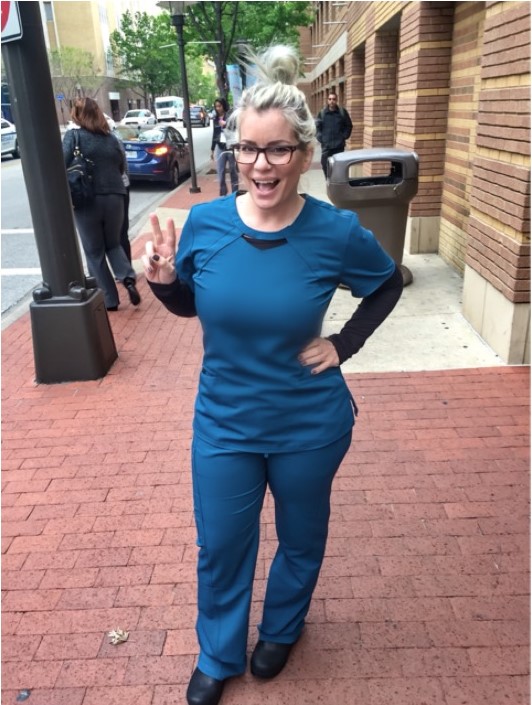 Official Careisma Scrubs review found here by Katie Duke.
___
Over the last week I've had many requests to do a review of the recently released new scrubs by "Careisma." Having worn them all week at the 2016 AONE Conference (American Organization of Nurse Executives), I can now complete this blog with a real time first hand review.
1. Fit
I am 5 feet tall, I wear a size 10 Jean, (if it was up to me I'd wear leggings every day of my life though), I have boobs 36D/DD and I have hips and thighs. Finding scrubs and clothes in general that fit my frame decently is a constant mission. I decided to go with a medium top and a medium pant. All of the styles in her line have stretchy fabric and it feels Yoga inspired, so the fit is flattering and also moves very well with you. The pants are higher rise which I really like because we spend 90% of the shift bending over and I'd rather not show anyone my undergarments. It is true to size most definitely.
Amen for stretch.
2. Style
I like the cut outs and the charms on the zippers and also the color blocking with stretchy sleeves. The undershirts feel like yoga shirts and I actually have worn them with some cute leggings to run errands and that I love because it makes me feel like I've got more for my money. Small little details like what I've mentioned above are things I can appreciate because …..well…. It's nice to have details like that when it comes to your work uniform.
3. Price
This is plain and simple. They're affordable. They're classy, and they're a worthy purchase of between $27- 32. I learned a long time ago that you get what you pay for, and I don't want to be wearing a $10 cardboard scrub top.
Locate a retailer near you, or shop online:)
KD