Las Vegas nurse chosen to be Olympics torchbearer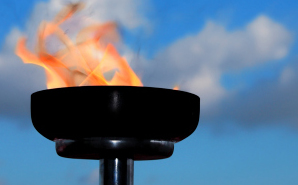 A Las Vegas nurse traveled to Kirtlington, Oxfordshire, England to help ring in the London 2012 Olympic Games as a torchbearer yesterday.
Debra Toney will be one of 8,000 runners carrying the torch through 1,019 communities throughout the United Kingdom on its way to London for the Games.
"I've been doing a lot of reflecting," the 56-year-old told the Las Vegas Sun. "It's an awesome, unbelievable feeling… I'm a regular person. This could have been anybody."
She will run for 300 meters, and says she has been preparing by doing spin classes, riding an elliptical machine and trying to walk more.
Toney has been a nurse for more than 30 years, and she was nominated for the opportunity by friends and colleagues through a program sponsored by Coca-Cola. Toney is a member of the National Institutes of Health Office of Research on Women's Health Advisory Committee and recently served as president of the National Black Nurse Association.
Source:
Las Vegas Sun