Expressions: Less stress, more art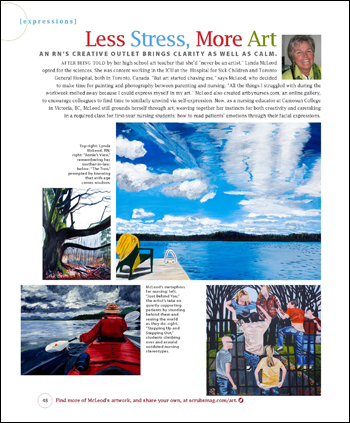 From the Spring 2011 issue of Scrubs
After being told by her high school art teacher that she'd "never be an artist," Lynda McLeod opted for the sciences. She was content working in the ICU the Toronto General Hospital and the Hospital for Sick Children, also in Toronto. "But art started chasing me," says McLeod, who decided to make time for painting and photography between parenting and nursing. "All the things I struggled with during the workweek melted away because I could express myself in my art." McLeod also created artbynurses.com, an online gallery, to encourage colleagues to find time to similarly unwind via self-expression. Now, as a nursing educator at Camosun College in Victoria, BC, McLeod still grounds herself through art, weaving together her instincts for both creativity and caretaking in a required class for first-year nursing students: how to read patients' emotions through their facial expressions.