Periodically, we print great stories in Scrubs Magazine that deserve to be enhanced with audio.

For example, Garrison Keillor is known as a remarkable radio storyteller, so when he penned a mash note to nurses in the Spring 2010 issue of Scrubs, we thought it fitting to include his audio tributes to nurses as well. Click into the article for a listen.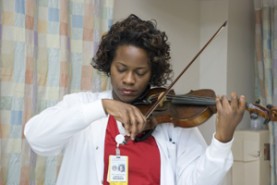 We also were thrilled to sponsor a professional recording session for Lori Sykes, the virtuoso RN who brings her violin to work every day, and serenades her ICU patients with beautiful music. She hopes to someday turn these recordings into an album, but Scrubs Magazine readers get a sneak preview of her work here.
---
This article is mentioned in the Spring 2010 print edition of Scrubs Magazine, which can be found at uniform retail stores nationwide or purchased online. Go to https://scrubsmag.com/magazine for a peek inside and to find out where you can get your copy!