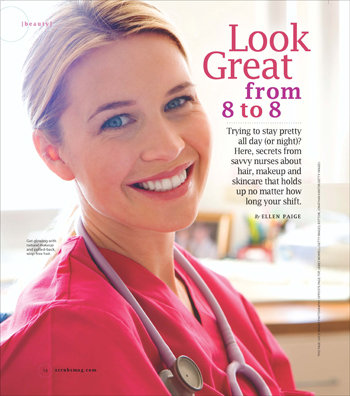 Who doesn't want to look as polished as she is professional? "Being pulled together makes me feel competent and good about myself, and it gives patients confidence in me," says Susan Watson, an ER nurse in Charleston, S.C., and the founder and co-owner of a medical spa called Facial Fusion in the Winter 2010 issue of Scrubs.
For nurses, looking good on the job has particular challenges, like unflattering fluorescent lights; long, makeup-melting hours; and a skin-drying environment. But there's nothing a few clever (and easy) beauty tricks, plus consistency and a little forethought, can't fix. For inspiration, we went right to the source—nurses who do beauty battle every day—and added a few words of wisdom from the experts.
Beautify the Skin You're In
While hospitals and clinics aren't optimal environments for skin, "There's nothing particularly toxic about them," says Kathy Fields, MD, an assistant clinical professor of dermatology at the University of California, San Francisco and co-creator of the Rodan + Fields and ProActiv skin care lines. However, air-conditioning is very drying to skin. Ditto with heat—ever present, especially in long-term care facilities and NICUs. To fight back, use a gentle cleanser (like CeraVe, which is available in drugstores) first thing in the morning, then follow with a moisturizer. "Because the hospital is so dry, I often use my night cream during the day," says Deborah Sapp, the surgical services nurse manager at Cook Children's Medical Center in Fort Worth, Texas.
At night, when you're dragging and tempted to bag your p.m. routine, streamline it instead. "I skip a few steps by using pre-moistened cleansing cloths," says Beth Haney, a family nurse practitioner and owner of Luxe MedSpa, a medical spa in Yorba Linda, Calif. "No makeup remover, not even soap and water." Just night and eye creams, preferably with antioxidants. And once a week—perhaps on your day off—exfoliate. "Dead cells prevent your moisturizer from penetrating properly," says Naila Malik, MD, a dermatologist and anti-aging and cosmetic medical specialist in Southlake, Texas.
Help for Hands
According to one study published in The British Medical Journal, nurses wash their hands twice as often as doctors do. No wonder their hands are dry and cracked! Antidotes for repeated washing:
Lobby at your workplace for alcohol-free hand sanitizers and mild soaps. "Liquids tend to be gentler than bar soaps," says Dr. Malik, something to keep in mind when choosing soap for your home, too.
Keep hand lotion or cream where you wash your hands, and apply right after scrubbing. Two inexpensive drugstore favorites: Aveda Hand Relief Cream and Gold Bond Ultimate Healing Lotion. "Look for products that have 'intensive moisture therapy' in their names and are fragrance-free," says Elizabeth Kelly, a NICU nurse at Cook Children's. To judge a product's potential to protect your hands: Squirt a little onto your palm, then turn your hand over. If it stays in place and doesn't run off, it's more potent.
Moisturize with an ultra-rich product at bedtime. "When my hands get really bad, I slather on hand cream, then sleep in a pair of cotton gloves," says Nurse Haney, who found that Eucerin Plus Intensive Repair Hand Creme does a good job. Another nighttime soother: Aquaphor Healing Ointment.
To keep fingernails from becoming brittle, Nurse Sapp recommends Crabtree & Evelyn's La Source 60-Second Manicure Set for Hands, which comes with a hand exfoliant and rich hand moisture cream. "It truly takes only 60 seconds and you feel like you just had a spa treatment," says Sapp, who also applies cuticle oil twice a week for extra protection. For the same reason, Nurse Kelly recommends a layer of clear nail polish.