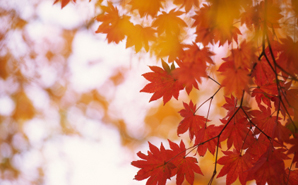 This morning I was driving home from work—I live in an area of the country where morning traffic is legendary for being horrific—and I was all wrapped up in navigating tons of crazy cars while listening to music loud enough to keep me awake after my twelve-hour shift.
Suddenly I hit a weird intersection where all the lanes reduced and I was forced to quickly hit the brakes…
I was stopped for a couple of minutes when I looked up from the gray pavement and bumper-to-bumper cars only to find myself surrounded by towering trees that had seemingly overnight turned gold, yellow, red, orange and a million other different hues. The sun was rising and peeking at me through the leaves while setting the forest blazing with light. It was absolutely gorgeous and the honking, crazy traffic around me faded into the background for a moment. At that moment I had an epiphany.
Sometimes in nursing I am so intent on the road—navigating others, doing my work, passing the time away until I can go home—that I forget to look around me and really "see the trees" as it were.
I forget to look into the faces of my patients and really see them and their newborns; I often don't really pay attention to the miracle of new life I get to hold in my arms. Just the other day I held twin newborns in the crook of one of my arms and was struck with how amazing my job is and how privileged I am to be a labor and delivery nurse.
The reality is that if I get too focused on the road and never really look up and see what I am doing, I will miss out on the joys of my profession. It's a struggle to be present, to be intentional—a struggle I don't want to lose. Making time to really understand what I am doing as a nurse and how I affect people is a huge part of my job satisfaction! Seeing the big picture and reaping its rewards is like everything else in life: it takes some work!