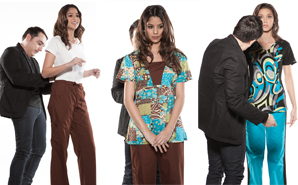 A lot of people who don't wear scrubs to work envy those who do. After all, scrubs just look so darned comfortable. But as anyone who has worn them on a daily basis knows, sometimes it's hard to feel, well, stylish. And we don't all have a clothing stylist to come fit us every morning so we can look as good as one of those scrubs models in the catalogs!
Fortunately, that's no longer true. The growing scrubwear options make being fashionable easier than ever. Add some dynamite accessories and a great hairstyle, and you'll soon be a fashion "do!"
Here are five tips for looking as if you were styled by a pro every morning:
1. Get the right fit. There's no rule that says scrubs have to fit like a flour sack. For most women, the narrowest part of the body is the upper ribcage, just under the breasts. Emphasize it through uniforms that tie in the back, or those with a band running under the breasts. Or invest in some tailoring to get the most flattering fit. Unsure what style looks best on you? Take along a (brutally honest) friend, or have the clerk take photos of you in various options for your objective consideration before making a final decision.
2. Look for color. Pink is universally flattering. The darker your coloring, the more vivid the pink can be. If you get compliments on a certain color, that's what you should wear most often. If you want to look more stylish, don't matchy-match. Have neutral colors (black, brown, navy, gray, white) on the bottom and a flattering shade on top.

3. Accessorize. Nothing can make you feel more stylish than great earrings and/or a necklace. One word of caution: If you opt for a patterned scrub top, then keep accessories very simple so as not to look clownish. Diamond studs (either fake or real) add brightness around the face, as do pink or white pearls. Medium-size hoop earrings are a good choice at any age.

4. Look for wear and tear. Nothing looks worse than scrubs that are in poor condition; stained, wrinkled, frayed or torn clothing will make you look the same. Scrub pants should be a quarter to a half inch off the floor (measuring from the back of your heel with shoes on) so they don't drag on the ground. Carry small stain removal sticks so you can quickly and easily get rid of soils.
5. Invest in your hair. One of the best investments you can make in looking stylish is a good haircut that will withstand long hours and scrub caps. Visit a great salon to get the right color and cut for you. And please, get rid of the scrunchie.