Brown bag meals: Low-fat, low-cal muffins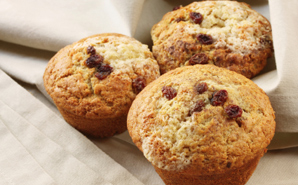 If you're hungry and rushed for time at work, you might grab a mouthwatering muffin in the cafeteria or coffee shop as a way to quiet your hunger pangs. But while these muffins can fill you up fast, they can also load you down with fat and sugar.
If you're looking for a healthy muffin that can provide a nutritional wallop and keep your body energized for a long shift, try this great recipe. (And don't let the name fool you—these muffins are great at any time of the day!)
Morning Glory Muffins
1 egg
2 egg whites
½ cup apple butter or apple sauce
¼ cup vegetable oil
1 tablespoon vanilla extract
1½ cups all-purpose flour
½ cup whole-wheat flour
1¼ cups white sugar
1 tablespoon ground cinnamon
2 teaspoons baking powder
½ teaspoon baking soda
½ teaspoon salt
2 cups grated carrots
1 apple, peeled, cored and chopped
1 cup raisins
2 tablespoons chopped walnuts
2 tablespoons toasted wheat germ
Preheat oven to 375 degrees F. Lightly oil 18 muffin cups, or coat with nonstick cooking spray.
In a medium bowl, whisk together eggs, egg whites, apple butter or apple sauce, oil and vanilla.
In a large bowl, stir together flours, sugar, cinnamon, baking powder, baking soda and salt. Stir in carrots, apple and raisins. Stir in apple butter/sauce mixture until just moistened. Spoon the batter into the prepared muffin cups, filling them about ¾ full. In a small bowl, combine walnuts and wheat germ; sprinkle over the muffin tops. Bake for 15 to 20 minutes, or until the tops are golden and spring back when lightly touched. Serving suggestion: Try with some fruit, yogurt or favorite soup. You can freeze leftovers to use later.
Shopping list
1 egg
Apple butter or apple sauce (at least 6 oz.)
1 small container vegetable oil (at least 4 oz.)
1 small bottle vanilla extract
1 small package all-purpose flour (at least 14 oz.)
1 small package whole-wheat flour (at least 8 oz.)
1 small package white sugar (at least 12 oz.)
1 small container ground cinnamon
1 package baking powder
1 small box baking soda
1 package carrots
1 medium apple
1 package raisins (at least 8 oz.)
1 small package walnuts
1 small jar wheat germ
SEE MORE IN:
Brown Bag Meals, Health, Healthy Eating, Your Health