Mad about midwives and more news for nurses from summer 2013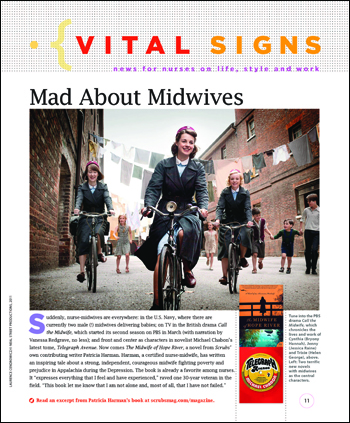 From the Summer 2013 issue of Scrubs
Mad About Midwives
Suddenly, nurse-midwives are everywhere: in the U.S. Navy, where there are currently two male (!) midwives delivering babies; on TV in the British drama Call the Midwife, which started its second season on PBS in March (with narration by Vanessa Redgrave, no less); and front and center as characters in novelist Michael Chabon's latest tome, Telegraph Avenue. Now comes The Midwife of Hope River, a novel from Scrubs' own contributing writer Patricia Harmon. Harmon, a certified nurse-midwife, has written an inspiring tale about a strong, independent, courageous midwife fighting poverty and prejudice in Appalachia during the Depression. The book is already a favorite among nurses. It "expresses everything that I feel and have experienced," raved one 30-year veteran in the field. "This book let me know that I am not alone and, most of all, that I have not failed."
Nurses-Turned-Wedding Planners
Courtney Sprenkle was 19 years old, engaged to marry Scott Shelly and a leukemia patient at Penn State Hershey Children's Hospital. When she relapsed last fall—and the prognosis was not good—the nurses on her floor, full of love for the teen who'd often talked about her dream wedding, asked if they could plan the event. "It started out small—cupcakes and a potluck—then it snowballed out of control," says Carol Magee, the pediatric oncology nurse who spearheaded the effort. Decorations, food, rings, tuxedos, hair and makeup were all donated, and the couple—plus 60 guests—shared a day of bliss last November.
Magee is quick to note that finding a balance between getting emotionally involved with a patient and keeping a professional distance is a challenge that nurses deal with daily. "We probably crossed some boundaries with the wedding, but it didn't matter," she says. "It was such a positive experience and, as a nurse, you do the best you can to spread that happiness." Especially knowing how fragile life can be: Courtney Sprenkle passed away three weeks after the wedding.
10+: The number of shift hours that makes nurses more than 2 1/2 times more likely to experience burnout and job dissatisfaction.
Source: Health Affairs, November 2012