Mad about midwives and more news for nurses from summer 2013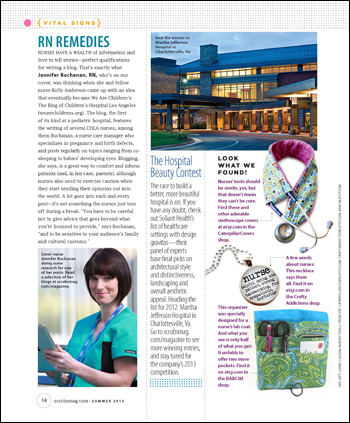 How to increase adult vaccination rates? Put nurses on the job. A recent University of Alberta study found that when nurses (rather than doctors) were given the task of vaccinating adults, compliance increased 44 percent. Of course. Nurses get the job done!
A Laughing Matter
The funniest hospital show on TV? Getting On, a black comedy set in a scruffy geriatric wing that is the creative brainchild of its three stars, (including comic Jo Brand—a former psychiatric nurse— who's brilliantly deadpan as Nurse Kim). While Getting On is a BBC show, not aired in the U.S., nurses can rejoice: HBO has ordered a pilot to be produced by the creators of the network's earlier hit Big Love. In the meantime, go to scrubsmag.com/magazine for clips of the original Getting On and prepare to laugh till your sides ache.
Patches That Make Scents
Essential oils have proven therapeutic benefits, relaxation among them (and what nurse couldn't use a little of that!). The trouble is, they don't do much good if they don't stick around. That's why we love Wyndmere Inhalation Aromatherapy Patches (wyndmerenaturals.com). You apply them to your chest, releasing the scent, which keeps wafting for up to eight hours—and only you inhale it. They come in four scents, among them lavender (for de-stressing and helping with sleep) and mandarin (to perk you up when your energy's down).
RN Remedies
Nurses have a wealth of information and love to tell stories—perfect qualifications for writing a blog. That's exactly what Jennifer Buchanan, RN, who's on our cover, was thinking when she and fellow nurse Kelly Anderson, came up with an idea that eventually became We Are Children's: The Blog of Children's Hospital Los Angeles. The blog, the first of its kind at a pediatric hospital, features the writing of several CHLA nurses, among them Buchanan, a nurse care manager who specializes in pregnancy and birth defects, and posts regularly on topics ranging from co-sleeping to babies' developing eyes. Blogging, she says, is a great way to comfort and inform patients (and, in her case, parents), although nurses also need to exercise caution when they start sending their opinions out into the world. "You have to be careful not to give advice that goes beyond what you're licensed to provide," says Buchanan, "and to be sensitive to your audience's family and cultural customs."
The Hospital Beauty Contest
The race to build a better, more beautiful hospital is on. If you have any doubt, check out Soliant Health's list of healthcare settings with design gravitas—their panel of experts base final picks on architectural style and distinctiveness, landscaping and overall aesthetic appeal. Heading the list for 2012: Martha Jefferson Hospital in Charlottesville, Va.
 Go here to see more winning entries, and stay tuned for the company's 2013 competition.
Look What We Found!
Nurses' tools should be sterile, yes, but that doesn't mean they can't be cute. Find these and other adorable stethoscope covers at etsy.com in the CaterpillarCovers shop.
A few words about nurses: This necklace says them all. Find it on etsy.com in the Crafty Addictions shop.
This organizer was especially designed for a nurse's lab coat. And what you see is only half of what you get: It unfolds to offer two more pockets. Find it on etsy.com in the BABCIM shop.