Maine nurse earns master's degree while battling breast cancer and working full-time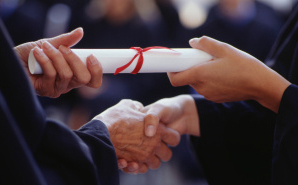 A nurse from Richmond, Maine earned a master's degree in nursing leadership by taking classes online. But what makes her story absolutely exceptional is that while she was earning her new degree, she also was holding down a hospital job as assistant chief nurse and battling — and beating — breast cancer.
Mary Anderson holds the top-level position at the hospital at VA Maine Healthcare System-Togus. She began participating in a program in which the VA paid her salary as well as her education costs in 2008, and was diagnosed with cancer in one breast six months later.
"It certainly made me more driven to reach my goals in life," Anderson said of her bout with breast cancer. "I love my job; I love where I work. I was very fortunate that the VA offers this program." (Morning Sentinel)
Anderson had a double mastectomy and has had no recurrence of cancer. Though her professors gave her extensions on assignments, Anderson said she only missed six to eight weeks of classes.
Anderson's strength and courage is undeniably inspiring but her message is a common yet important one for nurses on and off duty.
"I think survival depends on early detection," Anderson said. "You have to make sure you know your body and make sure you follow up immediately with your provider (if a lump is detected). I have four daughters and they have a higher risk with their mother having breast cancer." (Morning Sentinel)
Above: Mary Anderson left, and Tiffany Rooney
Source:
Morning Sentinel