Male nurse honored for stopping patient suicide attempt
A nurse recently was honored as one of three men who kept a woman from committing suicide earlier this year.
In April, a patient escaped from Morristown Medical Center in Morristown, N.J. and attempted to scale a fence on a bridge over a roadway in "an apparent attempt to take her own life," according to a statement from Atlantic Health System.
John Constantinides, RN, who works at the hospital, was among those who stopped the woman, restrained her and returned her to the hospital. A Morristown police detective and hospital security officer were also involved in halting the incident.
Morristown Medical Center honored the men, who were presented with plaques to commemorate their actions.
In honor of this great nurse, we want to highlight some fun Etsy products we found that celebrate male nurses everywhere!
Today's Heroes
"Todays Heroes: Nurses" says it all on this small cotton bag. As the Etsy description points out, this can be a great gift bag to hold little treats and trinkets.
Name Badge Reel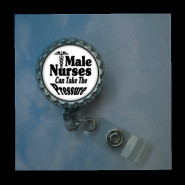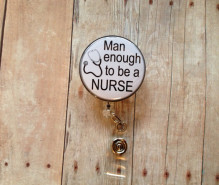 How about a couple of male-centric name badge reels?
Yes, I'm a Male Nurse T-Shirt
We love this great t-shirt…male nurses, what do you think? Would you wear it?