3 myths about men in nursing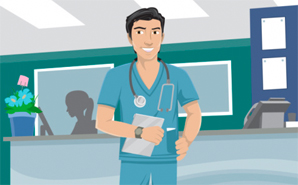 When I first decided to enter the nursing profession, I really had no idea what I was getting into. I hadn't grown up wanting to be a nurse, nor did I give it much thought beforehand.
But I was bored and miserable working for the U.S. Postal Service and had to find something that was a lot more mentally stimulating. My mother, who is a nurse, suggested that I pursue nursing. I thought, "That's a woman's profession! Why would I want to do that?"
MYTH #1: NURSING IS A WOMAN'S PROFESSION
The idea of nursing being only a "woman's profession" has given way to the idea that anyone can be a nurse. The number of men in nursing is steadily increasing, and that's a good thing. There's plenty of room under the nursing umbrella for both men and women.
Many so-called "manly men" like policemen and firemen pursue second careers in nursing after they retire. The step seems to be a logical one, since policemen and firemen are caretakers (of sorts) to begin with.
Variables such as flexibility of schedule, excellent pay and the daily challenges of nursing make the job very rewarding. The scientific and methodical approach to nursing is also what I would call "man-friendly."
MYTH #2: MEN AREN'T EMOTIONALLY SUITED TO NURSING
What drew me to nursing, not as a man but as a human, was the interaction with people and the reward of helping others. That is a universal truth for nurses, be they male or female. I like to get people's stories (some are heartbreaking, and some are quite funny), finding out as much as I can about them, the way they live and who is around to assist them with their needs.
These are important aspects of caring for patients that only nurses think about while devising a plan of care. I believe that the nursing approach of caring for the entire individual should be the standard for all of those working in the healthcare field.
MYTH #3: MALE NURSES ARE JUST "WANNA BE" DOCTORS
Yes, from a man's perspective, there are a lot of positive and negative aspects of nursing. One negative aspect is the assumption that we couldn't hack med school. That's obviously not the case for most of us.
Interestingly, being a male nurse truly gives us an advantage when dealing with most doctors. Doctors treat male nurses a bit differently than our female counterparts. I've seen many doctors talk to female nurses in ways they never would to a man.

BUT FINALLY, SOME TRUTHS ABOUT MALE NURSES
Even though I've debunked some myths, there are still a few "stigmas" about being a man in nursing. First, for the most part, you won't ever get to work in a maternity ward! Second, I've found that a lot of young female patients are embarrassed about having a male nurse. (I always thought this was peculiar, though, seeing that most of their doctors were men!)
If a patient was uncomfortable having me as her nurse, I never took it personally. Being a nurse, I adapted and improvised. I'd simply switch that particular patient assignment with one of my female coworkers, and the problem was solved.
SO WHY SHOULD MEN PURSUE NURSING AS A CAREER?
Males are actually ideally suited to both the pressures and excitement of nursing. I've always liked comparing the nursing approach to that of the U.S. Marines: They adapt, improvise and overcome. Working just one nursing shift will prove that point!
Men also have a very different perspective than women on a lot of things, and it's a good thing having them in the profession.
All in all, I love the label "male nurse" (but not murse!) When people ask me, "What's it like being a male nurse?" I usually reply, "The 'male' part I've got down—it's the 'nurse' part that takes a lot of hard work!"