Marina Dedivanovic on nursing, her coworkers and her starring role in "NY Med"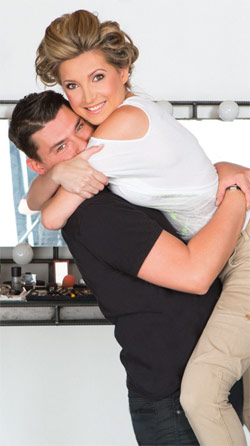 As if working as a critical care nurse in a New York City ER isn't drama enough, Marina Dedivanovic (pictured here with her celebrity makeup artist brother Mario) has spent three of the past four years performing her job under the glare of television cameras for NY Med, an ABC prime-time series.
Working on a "set" (NewYork-Presbyterian Hospital/Weill Cornell Medical Center) where there are no second takes underscores the reality of her work. "You never know what you're going to get in the ER, and you get everything," she says matter-of-factly.
For the Fall 2014 issue of Scrubs, Editor-in-Chief Catherine Ettlinger interviewed Dedivanovic about her career, family and what it's like working as a nurse on-camera. Below are two Scrubsmag.com-exclusive reasons Marina has reservations about her starring role in NY Med (make sure to get your copy of Scrubs to read another!).
1. Being one of just three nurses featured on the series (out of a pool of about 200 ER nurses) hasn't won her many fans among her co-workers. "There was a lot of jealousy and eye rolling from [those] who were not chosen. I'm glad the filming is over," Dedivanovic says. And not just because of envious co-workers….
2. Playing a nurse on TV while being a nurse in the ER "was like having two jobs in one stressful environment: saving lives and looking good on camera, not just physically, but being careful about what you say and what you do. And needless to say, there are no second takes when it comes to decision-making in the ER."