This post is sponsored by Cherokee Uniforms.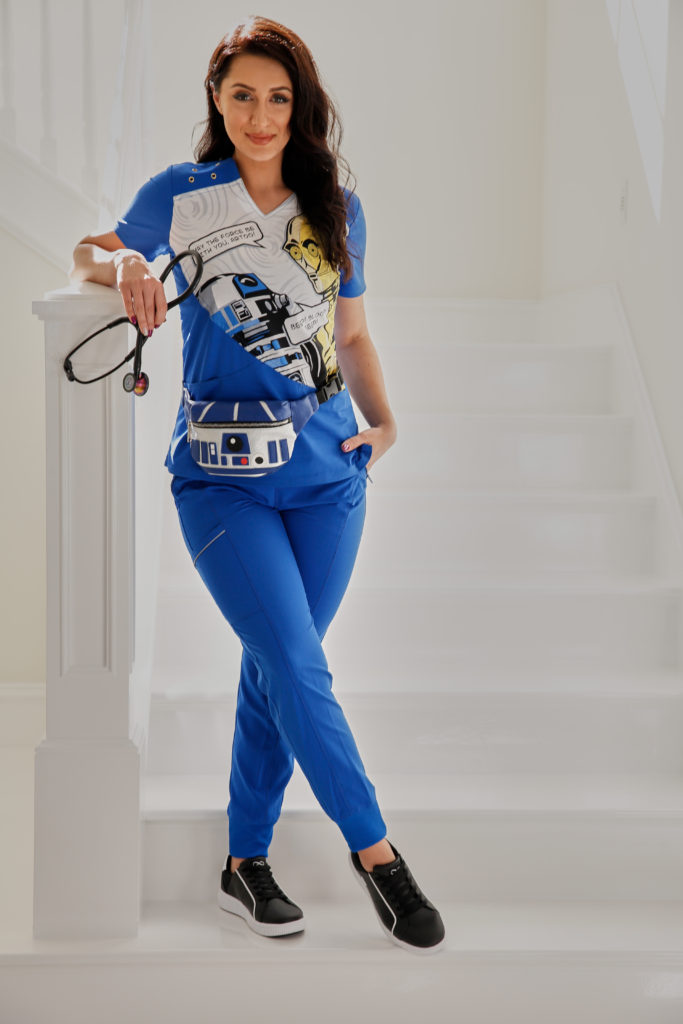 Photo by Celebrity photographer, Jim Jordan.
www.instagram.com/jimjordanphotography
Are you constantly quoting Luke Skywalker as you make your rounds in the hospital? Maybe you can't stop talking about the ending of The Last Jedi. If you're truly in love with the Star Wars universe, share your passion at work with new Star Wars scrubs from Cherokee. They feature some of the most memorable characters from the movies including Darth Vader, R2D2, Chewbacca, and BB-8 – that adorable ball-shaped droid from The Force Awakens.
Honoring the Legend of Star Wars
Few films are as iconic as the original Star Wars trilogy. We all have our own opinions of the sequel and prequels, but there's simply no denying that the original three films are some of the best movies ever made. Episode IV ̶ A New Hope, starring Mark Hamill, the late Carrie Fisher, and Harrison Ford, made a splash when it opened in theaters across the country in 1977. The first film earned a staggering $461 million that year, becoming the highest-grossing film of all time, knocking Jaws (from 1975) off its pedestal. The film was also one of the first films included in the U.S. Library of Congress' National Film Registry, marking its significance in the world of motion pictures.
There are 10 films in the franchise to date, including the original trilogy from the late 1970s and early '80s, and the prequels from the late '90s and early 2000s. Disney bought the rights to the franchise in 2012 and launched its own film series in 2015, starting with The Force Awakens, followed by several stand-alone character stories including Rogue One and last year's Solo: A Star Wars Story.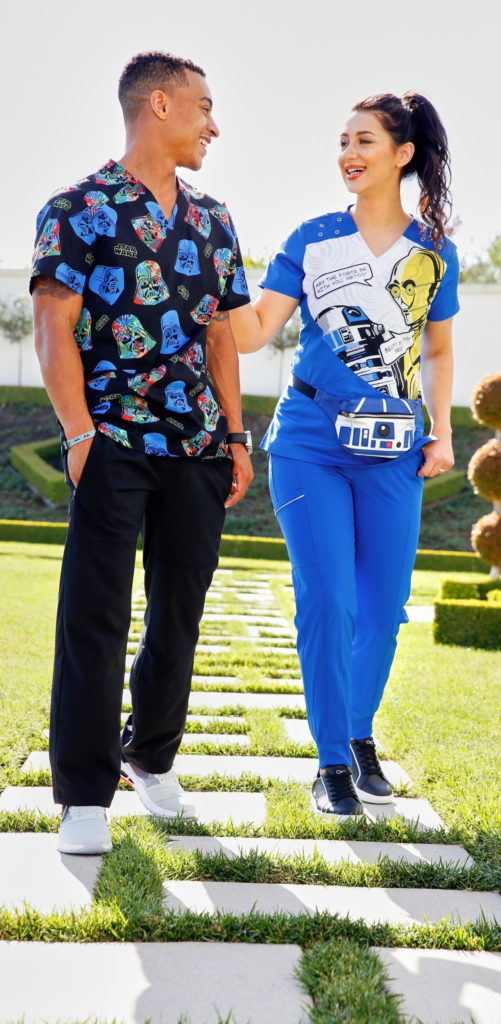 Photo by Celebrity photographer, Jim Jordan.
www.instagram.com/jimjordanphotography
Over the years, Star Wars has evolved into a cultural behemoth that includes numerous video games, action figures, comic books, television shows, and now even medical scrubs. With millions of fans all over the world and more movies and TV shows in the works, the Star Wars bonanza isn't slowing down anytime soon.
Perfect for Kids and Young Patients
There are so many ways to fan out for this incredible film series, which has brought so much joy to so many people. However, there's only one way to share your love of Star Wars at work. Cherokee has launched a line of new Star Wars scrubs as part of its Tooniforms® collection. As mentioned, you'll find some of your favorite characters featured on the designs, such as cartoon versions of Hans Solo, Chewie, Darth Vader, and all the beloved droids.
Light and colorful, these scrubs are perfect for nurses who work with young children. Most kids don't like going to the hospital, the doctor, or the dentist, but seeing their nurses come in with an image from one of their favorite movies is sure to put a smile on their faces and put their worries to rest. You can talk to your young patients about your mutual love for all things Star Wars, which is a great way to warm up to a patient before a big operation or even just a routine teeth cleaning.
You don't have to wear the same solid-colored scrubs to work every day. Create your own style in the workplace with these incredible Star Wars scrubs. They're just what you need to liven up your day, especially when you're in the middle of a 12-hour shift. Visit Cherokee Uniforms to find your local retailer.
You can purchase Star Wars Scrubs at AllHeart.com