This post is sponsored by Cherokee Uniforms.
Even though the '90s are back in a big way, most of us aren't ready to return to some of the extreme fashions of the era. Case in point: baggy pants. Fall fashion runways were replete with male models sporting the baggy pants that defined the era. Marni's runway went overboard with oversized suiting, including voluminous pant legs and dragging hems. Donatella Versace showed a pair of baggy, black leather pants hanging low to reveal a boxer band – a look Marky Mark would no doubt approve of. The Jacquemus fall lineup featured a bushel of baggy cargo pants that would have looked right at home in a '90s hip hop video.
Even so, you probably aren't keen to trade in your fitted skinnies in favor of pants that could easily accommodate two people. The skinny jean has established its dominance over the last few years in both haute couture and casual wear, and the good news is, this trend has finally made its way into the realm of medical fashion, where slim-leg pants are not only attractive, but also practical.
The loose hems of traditional scrubs can catch and drag, and there's nothing especially attractive about the boxy, one-size-fits-all vibe. Still, you don't necessarily want a pant that's practically painted on while you're working. Skinny scrubs offer a happy medium. They skim the body to create an appealing silhouette, but they're loose enough to breathe and move with you, adding comfort and convenience to high style.
Medical professionals looking to take their work wardrobe into the modern era will love the fit, function, and fashion-forward appeal of skinny scrubs, and there are several attractive options to explore that offer the comfort and utility the average healthcare worker needs day-to-day.
It's a Workwear Revolution
The Workwear Revolution Cargo from Cherokee isn't your typical skinny – you won't find it plastered to your leg when you slip it on – but it does offer a closer fit than your average, antiquated scrub pant. It's touted as a "modern classic fit", which ostensibly means you'll get a more fitted pant, but still with a bit of looseness for comfort and movement.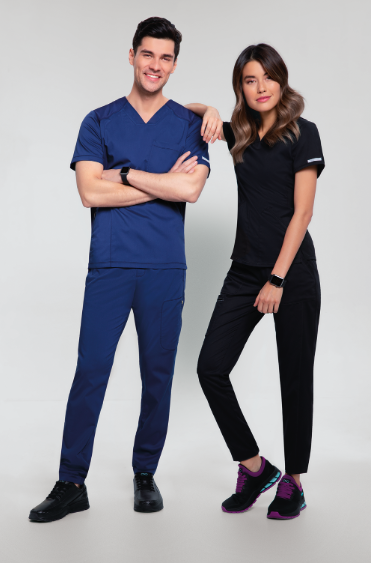 The midrise, drawstring, cargo style is perfect for an active healthcare worker, and the soft, comfortable fabric and tapered leg are like a soft caress. Added features like five pockets (2 front, 2 back, 1 side cargo) and a bungee ID badge loop make this pant a must-have for your everyday ensembles. Available in eight classic and modern colors.
Statement Making Scrubs
Cherokee's Statement pant is billed as a straight leg style, but if you know anything about pants, you know that straight leg and skinny are similar cuts. The main difference is that skinnies taper from waist to ankle, while straight leg pants tend to be fitted through the thigh and then stay the same width from knee to ankle. Still, this style is more fitted and flattering than the straight line from hip to toe you'll get with outdated scrubs.
The combo of linear dobby stretch fabric and jersey knit will make you feel like you're walking in a cloud, and the drawstring front closure and five-pocket design make for a sporty addition to your closet that works equally well in the ER and out on the street. Trendy, rose gold hardware adds a hint of modern flair. Available in seven fun and sophisticated shades.
Charmed, I'm Sure
Heartsoul is a brand known for simplicity and elegance, and their Charm Tapered Leg Pant does not disappoint. This skinny looks like a sleek, streamlined jogger with a knit waistband and ankle cuffs, along with tapered leg style. Back vents at ankle cuffs add modern appeal and better fit when worn with trainers.
The hidden, functional inner waist drawstring makes for a sleeker silhouette, and the natural rise waist is sure to suit a wide range of body types. Five pockets add utility and a splash of spandex fine dobby delivers moveable stretch. Available in seven trendy colors.
Naturally Skinny
This Natural Rise Skinny Drawstring Pant from Dickies is a true, fitted skinny from hip to ankle, but it takes on the jogger trend with a drawstring waist and five-pocket design. Worried a skinny won't work with your kicks?
Never fear, this scrub pant features side zipper vents at the hems to accommodate trainers, high-tops, and more. Best of all, this chic and stylish pant comes in seven trendy shades that give you options to make every workday ensemble unique.
Perfectly Polished
ELLE's Simply Polished Amour Et Compassion Drawstring Pant should become the new standard in scrubs. It's the best of both worlds thanks to a tapered silhouette that is nonetheless looser than your average skinny, offering the comfort, fit, and function you need to get through a busy shift in the ER. A drawstring waist and four pockets offer practical appeal, while stylish touches like tonal texture fabric, sateen tape at the sides, and functional snaps at the hem add panache. It also comes in seven modern shades.