Meet the woman who is changing the face of Scrubs
This post is sponsored by Strategic Partners and Cherokee Uniforms
Five years ago, Scrubs Magazine was invited to tour the offices of Cherokee Uniforms. Cherokee is owned by a group called Strategic Partners. SPI is also responsible for a number of other medical apparel brands. We were introduced to Mike Singer, SPI's CEO, who was impressive, to say the least. We also met Debbie Singer, Mike's sister, Media Director for the Cherokee Uniforms brand and a co-owner of the company.
Debbie has been labeled with changing the face of style and attire in the medical community over the past five years, and the expansion has been impressive. We recently visited SPI again, for an updated tour and more in-depth interview with Debbie.
As we walked around the sprawling building we saw large, glossy posters displaying its various brands; fun footwear for medical professionals and an entire department dedicated to seamstresses. SPI even had a wall of various licensed Disney characters. Oh, and the obligatory Bagel Friday. After the tour, we sat down with Debbie for a one-on-one.
A sweet, high pitched "Hiiiiii" escapes as Debbie jumps up out of her seat, offering a hug. We're standing at Debbie's cubicle. No office. No throne. She isn't what you think. Understated is a key word we would attach to this pint-sized woman who has been socially adorned with the crown of changing the face of medical attire. We walk to get coffee.
Debbie gives us an express rundown of the company's history, namely how she and her brother worked side by side with their teams to turn it into the operation it is today with more than 500 employees and shipping to 70 countries. Again, understated. We get the feeling she's had more to do with the company than she lets on, but of course, that's her M.O.
We're not really here to talk about Debbie's entrepreneurial skills, although it certainly explains why she's successful, but we're here to discuss her role in the social world. She works alongside 60 medical ambassadors that are "fiercely loyal" as she so nicely puts it. "Loyalty in this industry is key, and no one would get anywhere without it." I understand where she's coming from. I've been privy to other medical brands who seem to run through ambassadors like I run through bathroom paper (I'm not loyal to that either), but what's important to Singer is consistency. "It's deposits and withdrawals," as I ask what makes a good ambassador and why. "I'm not just a brand to this group, we're family. They've stayed at my house, we've enjoyed dinners, charity campaigns, even vacations."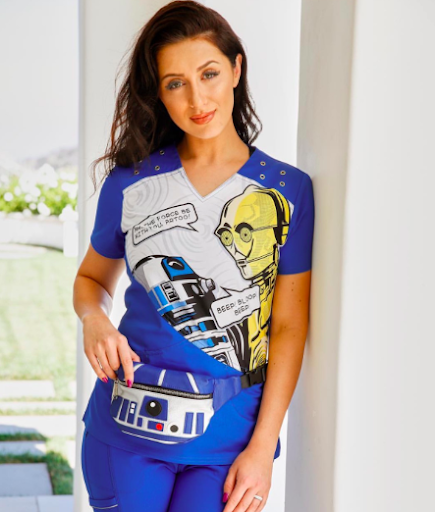 Gayana Chuklansev
Debbie offers a dynamic that no other brand can compete with. "Other brands throw money at the situation, but that runs out. We've helped ambassadors fuel their own ambitions, products and their influence. We distribute scrubs, medical shoes,
Littmann stethoscopes
, compression socks. We have a big footprint and can offer a lot more than a quick $200 here and $200 there." We discussed Nurses Take Disneyland, during which Debbie orchestrated an entire event where nurses literally took over Disneyland in California (which Scrubs Magazine covered).  It's not only influencers that Debbie works with, large scale brands that she's fostered relationships with over the years jump in when needed. Debbie enlisted the likes of
Emerald Health Services
, a national nurse staffing agency, and
NurseGrid
to help with the Disneyland campaign. It reached over 1 million people and nearly 3,000 Nurses descended on the event, including Kelley Johnson (Miss California and also a nurse). According to another ambassador, Katie Duke, (NP) she wouldn't be where she is if it weren't for Debbie's input.
"Debbie is like my sister. We pioneered the way for Medical Ambassadors, and I've never worked with anyone who is so supportive of my personal goals, completely selfless and driven." – Katie Duke, NP.
Latin Nurse Teresa
, 
Nurse Georgie 
and 
Katie Duke
It's a powerful statement, but does she have the goods to back it up? You bet she does. In under two years she amassed an influencer network that commands massive engagement and millions of followers. She's a smart cookie, like I said, understated. She's an early adopter and it's noticeable that she sets the trend versus following it. Cherokee Uniforms was the first brand to create an ambassador program and essentially led medical apparel into the digital age. But it makes sense; what I come to find out is that Debbie lives and breathes it, and she doesn't stop at 5pm. "I'm on the treadmill at 10pm working, I call it working, but the old adage is true that when you love what you do, it doesn't feel like work."
But it's not just engaging with these influencers and sending out product?
"Not at all, I like to think I know a little about fashion (she says with a wink) and I know scrubs inside out, I know the fabrics, body shapes and sizes, what looks good on a petite nurse might look different on a size 10. Color schemes are also hugely important, we have hundreds of designs, fabrics and seasonal changes. I also have a 13-year-old daughter who keeps me in check. But for ambassadors like Lauren Drain, I dressed her in Cherokee Infinity (the company's answer to Lululemon for scrubs) in a hot pink." Lauren Drain is a nurse, fitness guru, and top-tier influencer who is also a Cherokee brand ambassador.
"I'm always on the lookout for the next influencer, and numbers aren't always key. You have to be personable, be a good person and have something to say. Engagement is everything. I also want to know what you're doing to give back."
"I cannot explain the respect and gratitude I have for Debbie Singer. She has fearlessly led our Ambassadors with a compassion for others like I've never seen before. It's an honor to know her, love her, and work right alongside her." Kelly Johnson, Nurse, Miss USA/California Winner, Official Spokesperson for Cherokee Uniforms.
I was intrigued as to what happens next. You have all of these influencers working with you, posting on social every day, events, the list is endless. But what's next in your path? I genuinely asked this question because it feels like a natural progression in the discussion. I wasn't necessarily expecting the following answer.
"We have something very special in store for our community. I can't give too much away, but let me just say that 2019 is going to blow your mind. Just keep an eye out on the Cherokee Uniforms social pages to find out."
Lofty ambitions? Perhaps, but if you look at what the Singers have accomplished over the past three decades, you don't take anything with a grain of salt. Debbie treats everyone like family, and it's this feeling of belonging that has catapulted her network. It's what pulls this community together, and if the medical industry is a family, Debbie Singer is the godmother.
Want to connect with Debbie? See below.
https://www.linkedin.com/in/deborah-singer-1a916440/
https://www.instagram.com/deborah_lynne_/
You can connect with Cherokee on their Social Media
https://www.instagram.com/cherokeeuniforms/
https://www.facebook.com/cherokeeuniforms/
Want to be a Cherokee Uniforms ambassador?
Click here http://www.surveygizmo.com/s3/3990278/Cherokee-Brand-Ambassador-Application