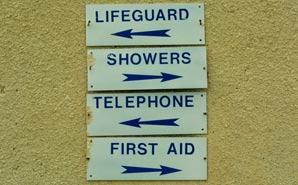 In the spirit of my summer vacation that has finally started (way late, I know!), and in honor of my friends who are up at summer camp right now, dealing with blisters, bee stings, and a whole lot of home sickness, I was reading this excerpt from the book "Camp Nurse."
I don't know why the thought of being a camp nurse never crossed my mind.  A few weeks ago, someone sent me message that the summer camp I grew up at was looking for a nurse. And while there are myriad reasons why I am not going back just yet, it was the first time I really thought about being a camp nurse. I love kids, I love the outdoors, why not?
Then I tried to think about the camp nurses I dealt with. Fortunately I never really had anything medically significant happen to me at camp I had heard the stories. I knew the girl that tried to befriend the mouse that mistook her finger for a snack and she had to be airlifted to the nearest hospital. I had seen friends get stung by bees or have asthma attacks. But mostly I remember people stopping by the nurse's office to ask if she had extra wax for their braces, or if she had anything to stop the insane itching after being eaten alive by mosquitoes at campfire.
I only have one memory of being in the nurse's office.  It was my first or second year at camp and I had these really cute sandals that were all strappy and colorful. Being eight years old, I thought that it would be a good idea to wade in the lake with my sandals on.  This was fun for a while, until I realized that all the sand and rocks were getting trapped under the straps, making tiny little cuts in my skin. It was nothing major looking back, but I that night, when I looked at my feet with their little cuts – they had also been dyed blue from the dye on my sandals coming off in the water – I seriously thought I might loose my feet for good! Surely no one had had cut up blue feet before. I was doomed!
But – of course- the nurse helped calm me down. At what seemed like the middle of the night to my eight year old self, she cleaned up my feet, and treated my cuts with something (neosporin?) and I woke up the next morning with clean and healing feet! It was really a camp miracle of epic proportions, and for that, I will never forget her, whatever her name was.
I think I could handle it. Of course, the camp I went to as a kid was only for one week at a time, much, much, shorter than your average summer-long sessions with kids looking for trouble and  little crazy eight-year-old girls like me who wear sandals in the water. Who knows, maybe one day I'll be a camp nurse? It could be fun…