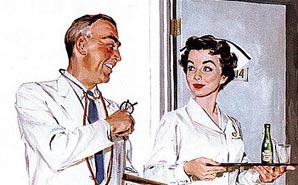 We asked our seasoned nurses on Facebook about the changes (good or bad) they've seen since their first years in nursing. What amazing answers you gave!
Read on to discover how nursing has evolved!
As students in the early '60s we had to stand when a doctor entered the room and we had to offer him (or her, which was rare) our seat if there wasn't one available. We were never to question a doctor's order and always had to answer "Yes, Doctor" or "No, Doctor."
—Pat Wonacott
We went from white dresses, stockings and hats to black scrubs and computers.
—Bonita Garcia
Back when I was first in training, we were told to not use gloves unless absolutely necessary as it might make the patient think we thought they were dirty. I'm not kidding! I was also on an "isolation" unit with no toilet or sink in the rooms. There was a large communal/dorm bathroom, but we had to use commode chairs in every room.
—Evalea Siverly
The change from "it's a calling" to "it's a career." For many it's a second career or degree.
—Annette Seals Singleton
I spend more time documenting every little freckle and wrinkle and red area, rounding notes every hour, waking sleeping patients to ask how they like their sleeping pill or pain medication (and documenting), dragging the rolling computer cart into the already overflowing-with-furniture rooms to scan meds and scan patient armbands…and I get more hours for mandatory education than actual work hours since we are now a magnet hospital.
—Deborah Zahorchak
Back when I first started, "comfort care" meant just that—to be comfortable. No meds except pain meds and anti-anxiety drugs, no lab work and no changes to diet. Lately I see doctors ordering lab work, changing medication, not d/cing pills like vitamins and supplements and not allowing sweets or salt if the dying resident wants them.
—Dounia Fontana
I think one of the saddest things is what I haven't seen change in nursing. I have moved from nursing in the northern states to nursing in the southern states. Nursing in the South has not seemed to have progressed at all in the past decade. Nursing in this area of the country lacks any identity, and nursing staff here seems to remain more doctors' handmaidens than professional staff. It's just sad to me that nursing still can't come into its own across the country.
—Chris Thuer
Accu-Chek machines. When I became an RN, you had to put a huge drop of blood on a
strip, wait 60 seconds, wipe the blood off with a cotton ball, place the strip in the machine and wait 30 to 60 seconds for a reading. It was a nightmare teaching patients to do this at home. It's much better now!
—Leslie Pardue Masters
More and more paperwork (charting) changing the focus to "customer service" rather than patient care.
—Kelly Farley Kantola
The patients I used to have two of in ICU are the same kinds I have five of on Med-Surg now. I don't have more hands or time, though!
—Angela Horn Nitsche
Nursing has indeed changed radically over the years, from developments in technology to the introduction of new epidemics. What's the most radical change in nursing that you've seen?