New nurse graduates don't find a nursing shortage everywhere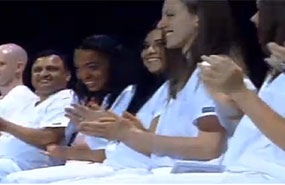 Nursing shortage? Not in South Jersey.
Not yet, anyway.
Following a graduation ceremony at Atlantic Cape Community College's nursing department, Associate Professor of Nursing Geralyn Michelfelder spoke to NBC40.net about the job prospects for the new graduates. She said that because of Atlantic Cape and other schools in the South Jersey area, there are not enough new nurse jobs in the area for all of this year's nurse graduates.
Unfortunately, we know the lack of a nursing jobs is not only a problem in South Jersey, but in many other areas as well. Many new graduates also find themselves entering a saturated job market right now. Fortunately, Michelfelder also pointed out that there is a light at the end of the tunnel.
She says that even in her area that has many nursing schools, there will be a nurse shortage in the near future as many older nurses retire. Retiring baby boomers are one of the main causes of current nursing shortages, but the recession forced many nurses to work after they might have otherwise retired. However, as the economy continues to improve and baby boomers age, more and more will retire and more jobs will be open for new graduates.
Here at Scrubs we want to wish all the new graduates around the country the very best of luck in your job search, no matter what the market is like in your area.
Psst: The nurses at Atlantic Cape are among the most stylish looking graduates we've seen lately in those all-white scrubs! If you're looking for a similar style, head over to Cherokee for a white V-neck scrubs top and a white drawstring cargo pant.
Sponsored by Cherokee Uniforms