New performance evaluator looks at contributions of individual nurses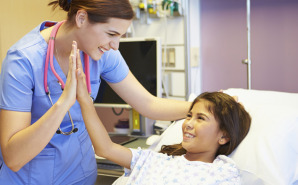 Traditionally, the effectiveness of nurse care has been measured at the unit or hospital level, but a new study shows that individual nurses have a significant effect on patient outcomes.
Namely, the study found that nurses having more experience or a bachelor's degree or higher is correlated with better care, including shorter length of stay and lower costs.
The new research, from the University of Michigan in Ann Arbor, broke down electronic health records and human resource data to the individual nurses. The information used in the study was gathered from 1,203 staff nurses working with 7,318 patients discharged in the latter half of 2011.
The study looked to evaluate relative nurse effectiveness, and called this individual nurse value-added (NVA). The NVA was positively associated with those nurses with higher degrees and more experience.
The research concluded that the performance of individual nurses does make a difference in patient outcomes and should be a major decision factor in many realms of the workplace.
"Nurses differ in their value-added to patient outcomes," the researchers wrote. "The ability to measure individual nurse relative value-added opens the possibility for development of performance metrics, performance-based rankings, and merit-based salary schemes to improve patient outcomes and reduce costs."
What do you think about these results? Have you seen proof on the job? Share your thoughts in the comments below.