Nurse bling: A hint of black, a dash of white
There are lots of hard-to-pull-off colors out there. And, sometimes, you just aren't in the mood to rock a pair of scrubs that are a shade brighter and bolder than your usual color scheme.
That's why the combination of black and white is every fashionista's favorite go-to pairing. Simple and chic, it's a duo that's never out of season, out of style or out of stock in the ever-evolving world of scrubs.
Seeking a more clear-cut work look, we took to our favorite brands to sniff out some of the more striking black-and-white pieces.
As far as success goes, we think we were able to avoid any gray areas.
Wearing your hair drawn back and away from your face always paves the way for a more sophisticated look. Don't let a massive bedazzled scrunchie in fuchsia kill your vibe.
Find them here.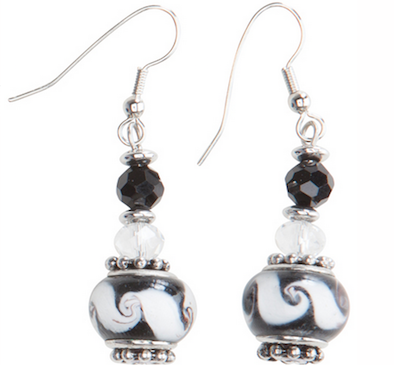 A little glam never hurt anybody. Feel feminine and put-together in a pair of simple, lightweight, black-and-white earrings—which won't get lost or caught in your chic, pulled-back hairstyle.
Find them here.

This no-frills-attached watch can be worn with pretty much anything. It also boasts several features that nurses love, like 24-hour dials, an easily spotted red second hand and water-resistant treatment up to 3 ATM, so you can submerge your hands and wrists in water every time you wash them, which is about 972 times per hour (give or take).
Find it here.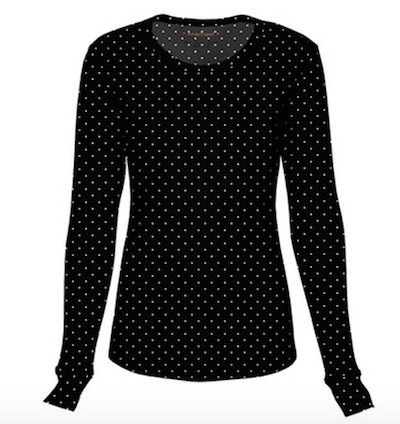 Whoever says polka dots aren't for adults is just being a Bitter Betsy because they have to wear a business suit to work. You can and should wear polka dots, because they're adorable and kind of just scream, "I'm super nice!"
This long-sleeve, round-neck tee by HeartSoul Scrubs makes for a perfect underscrub selection, featuring 95 percent cotton and 5 percent spandex with banded sleeves. To use the word "comfortable" would be an understatement.
Find it here.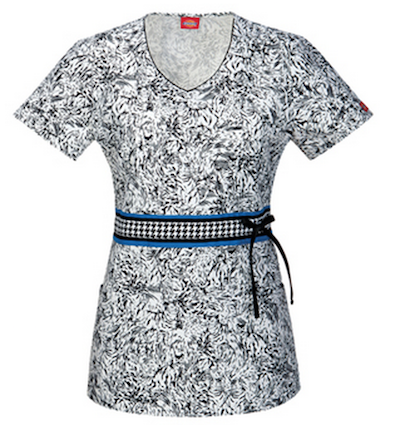 Dickies has done it again. This Junior Fit V-neck top absolutely oozes charm and comfort with an adjustable front tie, patch pockets, side vents and back elastic for added shape. We like the blue trim, too.
Find it here.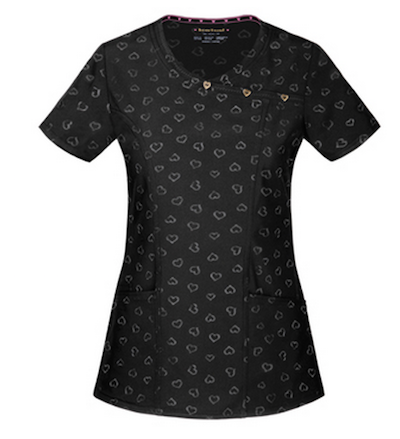 Oh, would you look at what we have here? Another winner.
We just adore this "Be Mine" mock wrap top from HeartSoul with zigzag stitching and heart-shaped gold buttons. Not that they didn't already have us at "heart-shaped buttons," but we should also mention the angled patch pockets with a small interior pocket, double-needle stitching and side vents.
Find it here.
What's your go-to color or color pairing? Share, share and share some more in the comments section below! 
Sponsored by Cherokee Uniforms