Fact: Nurses make the best moms. Here's why:
Assuming responsibility for the life of another human being is a natural, perhaps even nagging instinct.
Nurses are pretty used to being thrown up on.
Sleep deprivation is, like, old news.
Safety is always first. And second. And third….
Anyway, you get the point.
All you nurse-mothers out there, we take our hats off to you. Talk about two full-time jobs x 1,000! That's why we're not surprised that there's a whole lot of gear celebrating new nurse mommies on Etsy, where "adorable" is basically the standard.
Check out some of our favorites below: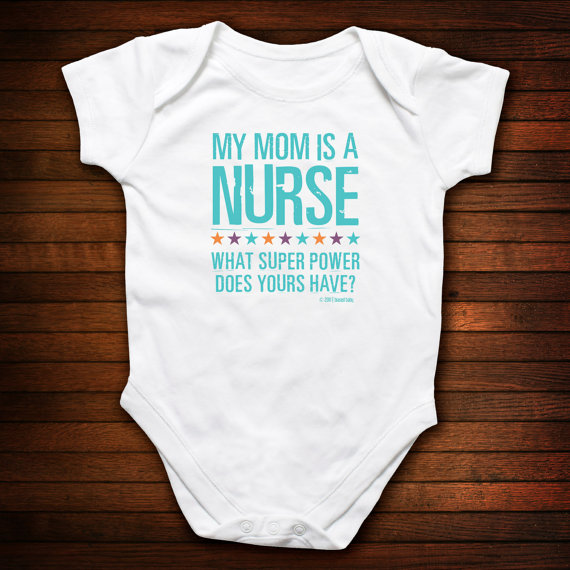 Have you ever been able to say the word "onesie" without a smile? Didn't think so. Probably because there's nothing sweeter or more satisfying than dressing little humans in various getups.
Our hearts basically melted when we spotted the gem you see above. Fingers crossed that there's a matching adult counterpart quick on its heels.
Again, our hearts melted.
You can purchase this adorable onesie here, preferably in bulk if it's going to be used as baby shower gift-giving material, so we're more likely to see it when going about our daily lives.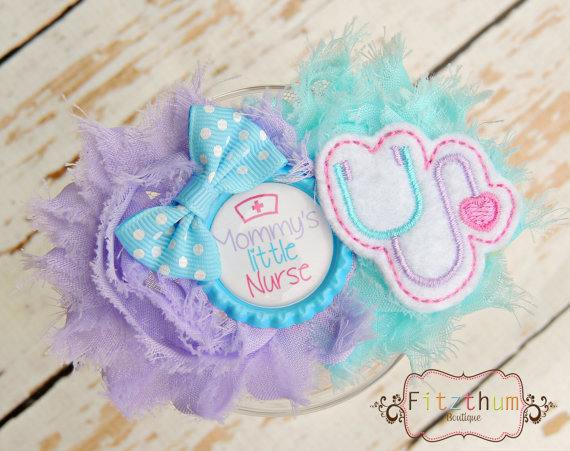 This bow may very well be bigger than your baby's head, but we're willing to accept that due to all the delightful pastels and some light embroidery. Besides, as a new nurse mommy, you're fully permitted to embrace all things "baby." We're just not really sure when that window closes, so do be cautious.
Remember what we said about our hats being off to you? We're serious about that, and having fully acknowledged the hectic new journey you're about to embark on, we thought you might be in need of a little extra encouragement in the form of this mug.
FYI: Should you choose to go the wine > tea route, there will be no judgment.