Nurse bling: Keep calm and nurse on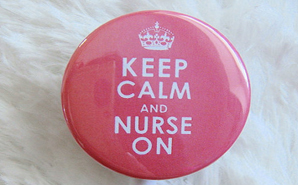 Keep your badge in place and in style with this adorable twist on the ever-popular "keep calm and carry on" slogan and poster. Each badge reel has a heavy-duty plastic snap loop for attachments, and is attached to a retractable line for ease of swiping. All badge reels are available with a swivel spring clip or a belt side clip and are 1.5 inches in diameter. $6.50 from Panda Love Shop.
Pssst…love the idea of a badge reel but not so into the British throwback? Check out the rest of the nursing themed reels in the shop–she has quite a few!