Nurses wear plenty of work "accessories"–you've got your badge, your stethoscope and several other items dancing in your pockets throughout the day! But how about fun accessories? If you like adorning your scrubs tops with a little personalized pin, we found a beautiful one that shows off the "tools" of your profession:
And here is a similar pin from the same artist:
The brooches feature mixed metals of copper, silver and brass. Both are 1 1/2 inch by 1 1/2 inch. We think they'd be perfect for a pinning ceremony or a great grad gift for a new nurse! Handmade by Pins With Personality on Etsy, $20 each.
Match the antiquated look of the pin with this Cherokee top: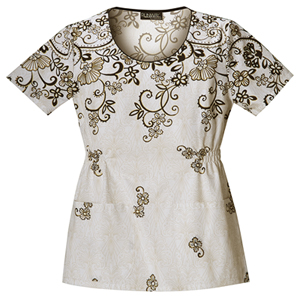 Prefer a solids? This HeartSoul top would contrast with the pin perfectly!
What do you think: Would you wear a brooch like this on your scrubs jacket or top? How about when you're off duty? Sound off in the comments below!
Sponsored by Cherokee Uniforms