Is it a necklace? Is it a lanyard? It's hard to tell, and can we just say we LOVE that?!

You can wear your ID badge…or you can accessorize with it. Choose practical-meets-pretty with this beaded lanyard by Cherokee. While an eyeglass ring holds your badge firmly in place, metallic and glass mix-and-match beading offers this camouflaged lanyard a more delicate twist, so you can tell your old look to "bead it."
In a not-so-unusual rush to put it on or take it off? A magnetic clasp breakaway makes it easy to do so. Oh, and since it's only 17.5 inches long, you can keep your badge close enough for comfort.
Got a real thing for pink? Check out these other lovely picks to help complete your look….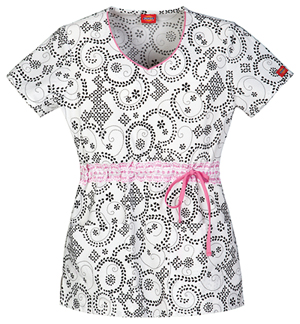 Getting dressed for work will feel a bit more like dressing up for work with this pink, black and white V-neck top from Dickies. Show off your figure with an adjustable front tie and your fashion sense with elegantly paired patterns. Patch pockets and side vents make this top as easy to wear as it is enjoyable.
You'll actually want to cover the entire floor in these lace-up athletic shoes from HeartSoul. Lightweight and breathable, these shoes feature a cushioned Soul2Sole foam insole for total comfort. Multidimensional pods and rubber inserts will help keep your feet in control, even when the day feels far from it.
Do you have a favorite lanyard you use on the job? Share it with us in the comments section below.
Sponsored by Cherokee Uniforms