Nurse fulfills a patient's last wish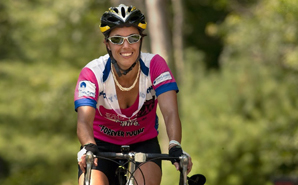 Massachusetts General Oncology nurse Kristin Beauparlant didn't own a bicycle. In fact, the 33-year-old hadn't even ridden a bike since childhood. But that didn't stop her from fulfilling a patient's last wish: to ride and raise money in the Pan-Massachusetts Challenge (PMC) in her place.
The PMC is a two-day, 190-mile bike-a-thon that raises money for cancer care and research at Dana-Farber Cancer Institute through its Jimmy Fund. The ride had been a summertime staple for Beauparlant's patient, Beth Bennett of New Castle, N.H., who began participating in the event in 1992, well before her own diagnosis.
Summer after summer, Bennett would train and ride in the PMC with her husband, Peter Rice, until 2004, when feelings of cramping, nausea and loss of appetite led her to see a doctor. In July 2005, after many misdiagnoses, doctors told her she had a Stage III-C metastatic mixed mesodermal tumor, a rare and aggressive form of ovarian cancer. She underwent more than five hours of surgery involving a complete hysterectomy and the removal of the basketball-size tumor from her abdomen. Remarkably, the cancer had not compromised any other organs, and thanks to chemotherapy, she was doing well and on her way to remission.
In August 2006, Bennett's ninth PMC was supposed to be a celebration of her victory against cancer, but just weeks before she was to bike nearly 100 miles, her cancer returned, this time in her lungs. She completed the ride anyway, determined to finish with her husband, not knowing that it would be the last time she would cycle in the PMC.
Bennett checked into the hospital more than a year later, and Beauparlant was her inpatient nurse. Bennett's hospital room was covered in PMC memorabilia. A photo of her and her husband from the 2006 ride sat on her bedside table, and her PMC shirt from a previous year hung on the wall, serving as motivation to get well and ride again.
"We became close while she was in treatment. She was an amazing person and everyone on the staff loved her," said Beauparlant. "The PMC was all she talked about. She was always telling me, 'You should do it! It's the most amazing experience,' but I always laughed, thinking, 190 miles—yeah, right!
When Bennett's health took a turn for the worse, her family moved her out of the hospital and into hospice care. "Just two days before she left the hospital, I was washing her hair, and she grabbed my hand and told me that she wanted me to have her bike, and ride as a part of the Seacoast Young Team with her husband in her memory," said Beauparlant. "I immediately said yes, I would be honored to." Bennett passed away two days later on October 2, 2008. This past August 1 and 2, seated on Bennett's bike and wearing her jersey and pearls, Beauparlant kept her promise and rode 190-miles as a part of the Seacoast Young Team.
"It was an amazing experience," said Beauparlant. "It was emotional for all of us on the team. This PMC means a lot to me and to the people who knew her. We all miss her very much."
Kristin plans to begin training for the 2010 race in the coming spring.
To learn more about the Pan-Massachusetts Challenge, visit their website at www.pmc.org.