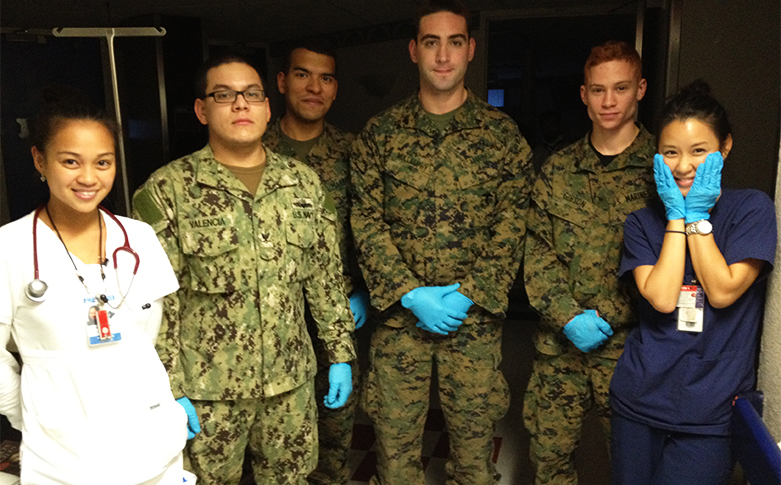 My name is Rebecca Lee. I'm a Registered Nurse from New York.
During Hurricane Sandy, I was working at Bellevue Hospital, the biggest city trauma hospital in NYC. I stayed in the hospital for 5 days and 4 nights, working 24/7 because nobody else could make it into work through the storm. All the subways, highways, tunnels, & bridges were closed. Streetlights were not working, and robberies and looting were taking place all over the city. We had to walk in the middle of the street to stay safe in the meager moonlight. Just for reference, Bellevue hospital is on 27th street, right next to the FDR and East River.
I saved a memo I wrote to myself from October 31, 2012 to help me never forget about what happened:
"While the storm worsened, staff secretly stole peeks out the darkened windows, trying hard not to let our fear show to the patients. Most of my patients were bedridden and kept asking how the conditions looks outside. All I could say was, "it looks okay", as their concern wrinkles on their faces momentarily smoothed out.
They must've known the storm was getting bad because the rain was beating the windows hard and their televisions now showed nothing but static. I tried to keep them as comfortable as possible as I saw the batteries on their machines running low, lights suddenly shutting off, and phone lines being disconnected.
After a few short hours, the FDR had completely disappeared under the east river and the water was quickly reaching Bellevue doors. The scariest thing I saw that night was cars that had been parked next to the FDR were being swept away by the waves. We also lost contact with the outside world. We worked while wondering about the status of our families, friends, cars, homes. The staff began to wonder how long they would be trapped for.
The next day it became clear that we had lost all power, food, water, and each minute became more precious than the next. The coast guard, along with hospital staff, formed human assembly lines on the dark stairway, all the way up to the 21st floor. They helped transfer patients by hand, and gave out food and water. Manual machines were utilized and critical patients were transferred to other hospitals that still had working power.
During the storm, some units pulled together and worked odd shifts to relieve one another from exhaustion and hunger, while other units fell apart and became fierce and chaotic. We had no food, no running water, and no running toilets. After a few days, we were running low on options. Thankfully we had an endless supply of gloves and masks.
Thank you for anyone who volunteered during this time to do all the heavy lifting and dirty work, to make sure everyone was fed, hydrated, and less stressed. I am re-thankful for family, friends, health, food, water, showers, music, clean beds, working toilets, and electricity. On Halloween 2012, I celebrated Thanksgiving.
What I've learned through all this: "You give and take away.."
Rebecca also runs a natural health remedies resource, RemediesForMe.com.