Nurse HERO Spotlight: Stephanie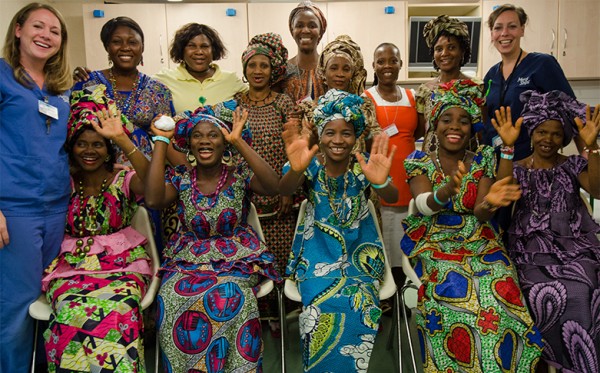 Nurse Stephanie Fiduk quit her nursing job in Orange County, California to volunteer with Mercy Ships onboard the world's largest private hospital ship. She's been volunteering for several months at a time since 2012. Stephanie pays monthly room and board fees to volunteer, raising support from friends, family and others so that she can donate her time and skills to the patients helped by Mercy Ships.
Stephanie has worked as a ward leader for the specialized surgeries that Mercy Ships does for women who suffered from childbirth injuries that left them incontinent. You may "meet" her in this short clip where she discusses one of those women. We also had the pleasure to ask her a few questions:
What inspired you to get involved with Mercy Ships?
When I started pursuing a career in nursing I was inspired by stories of nurses volunteering abroad in poverty stricken areas. I loved the idea of being able to use my skills as a nurse to experience other cultures and help people in need. I put it in the back of my mind knowing I needed some years of experience before being able to go. Four years passed, and I was feeling too comfortable with life in Orange County. Something in my heart told me it was time to go; to be uncomfortable; to live and work for something other than my own personal gain. So I went.
What has been the hardest part?
I've been working with Mercy Ships for four years now. Every year brings different challenges as I grow personally, professionally and my surroundings change. The hardest part about living on the ship is friendship. Let me explain. You live and work alongside 400 people from all over the world. Friendships are formed under a pressure cooker as we bond from shared experiences, living in close quarters, and the highs and lows of working with patients who have little to no access to medical care. We're all here for the same purpose, and it creates life-long friendships. The hard part comes when your friends leave, and live on the other side of the world. But the beautiful thing about the ship is that it draws people back, so goodbye is more like "see you later."
What are some of your favorite moments or memories of working on the ship?
This is probably one of the hardest questions to answer. There have been so many moments over the past four years, I don't even know where to begin or end! When I think of all the memories, and little moments on the wards they all boil down to joy and laughter with the patients. Take, for instance, the time when a patient had to go into isolation before surgery for an infected burn. For the West African community-focused culture, isolation was torture! To cheer her up because she did not like being away from all the other patients on the ward, we had a dance party outside her room. It was the first smile and laugh we heard in weeks. Or the dance parties with the patients, nurses, and crew on board celebrating the healing of women suffering from childbirth injuries. The drums and singing could be heard throughout the ship, often drawing people out of their offices to come and join in the celebration. And last but not least, all the "play therapy." As nurses in the states we forget the healing power of bubbles, stickers, and laughter – and this isn't limited to just the pediatric patients!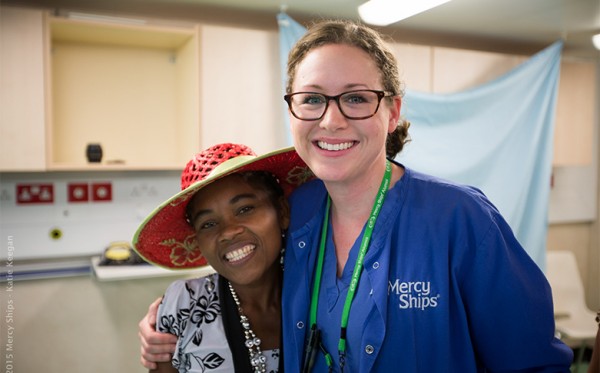 About Mercy Ships: Mercy Ships uses hospital ships to deliver free, world-class health care services, capacity building and sustainable development to those without access in the developing world. Founded in 1978 by Don and Deyon Stephens, Mercy Ships has worked in more than 70 countries providing services valued at more than $1.2 billion, with more than 2.5 million direct beneficiaries. Each year Mercy Ships has more than 1,600 volunteers from over 45 nations. Professionals including surgeons, dentists, nurses, health care trainers, teachers, cooks, seamen, engineers, and agriculturalists donate their time and skills to the effort. Mercy Ships seeks to become the face of love in action. For information about volunteering visit https://volunteer.mercyships.org/ or you can click here to see a 3-minute overview of Mercy Ships.