Nurse HERO Stories: Maria Fernandez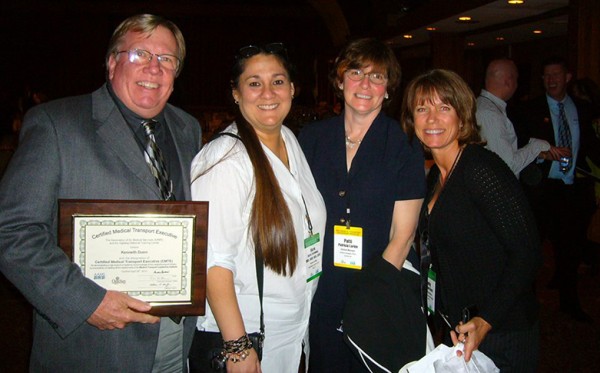 Maria Fernandez's story to become a nurse and to rise to the position of a Director at Nemours Children's Hospital in Orlando, Florida is one of overcoming obstacles. It is a story of heroism on many levels. As an immigrant and a single mother, Maria faced both personal and professional challenges to attain her current position. As a member of the Association of Air Medical Services (AAMS), she has also performed her duties under trying conditions, but she wouldn't change a thing.
1) Could you describe what your current position at Nemours Children's Hospital entails?
Currently, I work as the Director of Critical Care Transport Services. My patients' ages range from birth to 18 years of age. And although a lot of my current position requires management and oversight, I am still able to practice my clinical skills. I started as a nurse practitioner, and to this day I still go out and do field work when needed. For me, the ability to go out and transport a pediatric patient that requires critical care is the most rewarding part of my job. I like to be there for the families and friends of the patient, as well as the patient themselves. And my job doesn't end when the patient leaves the hospital. I follow-up with the patients once they go home and keep track of their progress.
2) How are you involved with the Association for Air Medical Services (AAMS)?
I have been involved with AAMS since 1992! During my first nursing job, I worked very closely with the director of my medical transport team. In 1997, I became a member of AAMS and was involved with the organization from Day One. Being able to attend conferences and training seminars helped me to expand my network and grow as a medical transport care provider. I love the wealth of information that AAMS has given me, both for my professional development and for the growth of the organizations I work for.
3) Can you tell us any stories about patients or situations that were especially meaningful to you? Stories that demonstrated a commitment to the profession?
Several years back, I was on a medical transport for a premature baby who had not yet been home due to ongoing medical issues. The concern was that the baby was going to develop blindness because of how premature he was. The patient was very unstable, but needed to be transported to a specialist at another hospital and the decision on whether or not the baby could make the flight came down to me. But I was confident in my team and the people around me. I knew we could safely transport this baby and give him a chance at a great quality of life. The baby was in Puerto Rico and it was a two-hour transport to the states. We stayed by the baby's side the whole time, making sure he was comfortable and stable. He survived the flight, underwent eye surgery and he is now able to see. The family feels like my decision to transport their son is the reason he isn't blind today, and I still keep in touch with them to this day. This type of story is the reason I do my job – I want to give these children a chance to have the best life possible.
Early this year I had another patient experience that really moved me emotionally. A teenage child was found unconscious about two hours away from my hospital. The medical crew on site was not sure what had caused the child to pass out. I arrived on the scene and immediately began to communicate with my team back in Orlando. We used FaceTime to communicate and share thoughts about the condition. We came to the conclusion that the patient may be having an allergic reaction to medicine. We changed the medicine and, amazingly, the child did a complete 180 and survived. It was wonderful to be able to use my knowledge in a situation like this and help save a life. I tell people all the time that I picked the best profession!
4) Can you tell us a little about your background and how your heritage has helped you become the woman you are today?
I was born in Cuba, but I left for Mexico at a very young age. Shortly thereafter, when I was two years old, we immigrated to the United States. My mom was a single parent in New York raising two children, and we grew up speaking mostly Spanish in our home. She was definitely an inspiration motivating us to pursue higher education and take advantage of life in the U.S. Being a single mother myself, I appreciate her even more today and understand how hard she worked to give me a wonderful life.
I moved to Miami in 1978 because I wanted to go to University of Miami to get nursing degree. I graduated from nursing school in 1983 and went on to get my masters in nursing at Florida International University (FIU). I then received my Masters in Business Administration and Health Services Administration in 2006. And this December, I will be completing my doctorate in nursing!
I think growing up in a Spanish-speaking household gave me a huge advantage in the nursing world, especially in Miami and Orlando. I am at an advantage for working with patients that a have a Hispanic background because I can speak to them in their native language and put them at ease. During times of crisis, people prefer to speak and communicate in their native tongue and it is wonderful to be able to offer than to them. I love being a mentor for other Hispanic women looking to pursue a career in nursing – I tell them it is something they won't ever regret!
Provided By Blair Beggan, Director of Communications, Association of Air Medical Services. Have a story to share with us? Let us know!