Nurse makes rural free clinic a reality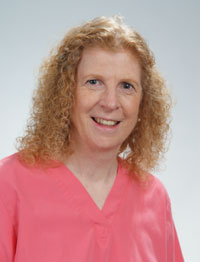 When her fellow townspeople approached Diana Webber saying they had no insurance and requesting a referral to a healthcare professional, the family nurse practitioner got right to work on their behalf.
With few medical resources available for the uninsured among her southeastern Oklahoma community of 3,000 residents, Webber began methodically assessing her community's health needs. Her interviews and data revealed a need for free healthcare in the community, and she realized that her experience and expertise could be the difference between families getting necessary primary care – or going without. With the support of her community, Webber founded the Hope Medical Clinic.
For her exceptional service and extraordinary compassion, Webber is one of just six recipients nationwide of the 2009 Cherokee Inspired Comfort Award. She received the coveted Grand Prize in the award's advanced practice nurse category.
"Diana Webber's work to establish a free medical clinic in a rural area demonstrates her great compassion for others and her commitment to helping those who need it the most. Through extensive planning and innovative thinking, she is making a profound impact on her community," says Wendell Mobley, who directs Cherokee Uniforms' charitable and scholarship programs.
The award is granted by Cherokee Uniforms to recognize nurses and other non-physician healthcare professionals who demonstrate exceptional service, sacrifice and innovation and have a positive impact on others' lives. This is the seventh year the leading designer and manufacturer of healthcare apparel has honored inspirational caregivers.
The community affirmed its support for Webber's efforts. A local hospital provided space where she could offer a clinic one Saturday a month, and a lab discounted its fees. The clinic began seeing patients in 2008 and logged about 75 patient visits from October through the end of the year. To see more patients, the clinic needs to be open more often, but Webber says she needs more volunteer staff to allow that to happen.
In addition to researching, opening and operating the clinic and working three days a week in a pediatric clinic located 130 miles from home, Webber provided clinical expertise on medical missions in 2008 to Mexico, Peru, Ecuador and Nicaragua. She also assists as a Spanish interpreter for the local hospital's emergency room.
Webber pursued every opportunity that would help her achieve her goal, including participating in a mentorship program through the American Academy of Nurse Practitioners (AANP). She also presented at the AANP's 2008 national conference and at the Oklahoma Public Health Association's annual conference, spreading the message to countless healthcare professionals that establishing free clinics was not only possible but necessary for the well-being of people everywhere.
As the Grand Prize Winner, Webber receives an all-expense-paid Caribbean cruise for two, a wardrobe featuring the best of Cherokee Uniforms and Cherokee Footwear worth more than $1,000, a Cherokee Inspired Comfort Award trophy and a 14K gold-plated commemorative pin.
But for Webber, the most valuable rewards come from her grateful patients. "One of the most appealing aspects [of nursing] is the genuine appreciation that my patients and families express for the care they receive," she says.  "Just like every other human, I thrive when I know that what I do is appreciated. When my patients or their parents choose me to be their provider or tell me how grateful they are for these two clinics, I am motivated to provide the very best care possible."
Since the Cherokee Inspired Comfort Award was established in 2003, more than 7,000 healthcare professionals have been nominated in the Registered Nurse, Advanced Practice Nurse, Licensed Practical Nurse/Licensed Vocational Nurse, Student Nurse and Non-Physician Healthcare Professional categories. A panel of Cherokee representatives and past Cherokee Inspired Comfort Award recipients evaluates nominations and grants the awards.
For every nomination, Cherokee Uniforms donated $1 to Nurse's House, a national fund that provides short-term financial assistance to registered nurses facing serious hardship. Proceeds from Cherokee Uniforms products support healthcare professionals through initiatives such as the Cherokee Inspired Comfort Award, scholarships for students enrolled in nursing school, and an inspirational film for nurses. Cherokee Uniforms will be accepting nominations for the 2010 Cherokee Inspired Comfort Award beginning March 1 through May 31, 2010. For further information on the award, please visit http://inspiredcomfort.com. You can also congratulate Diane on her win in the comment section here.
Sponsored by Cherokee Uniforms