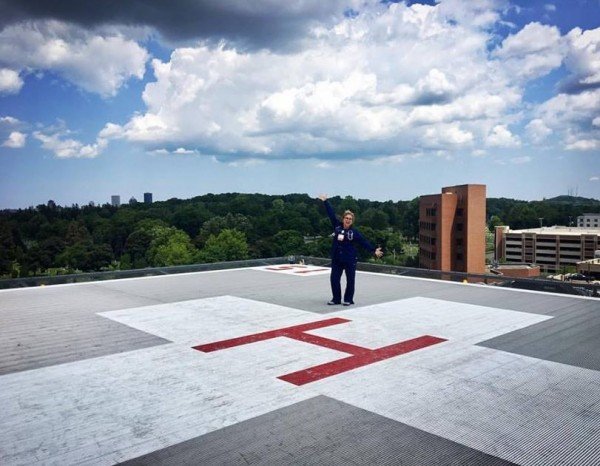 My name is Melissa Fischer and I'm currently 23 years old. I'm an Emergency Room nurse at Strong Memorial Hospital in Rochester, New York. SMH is the only level 1 trauma center and nationally recognized burn center in the Rochester area. I have worked there for 13 months. I started at SMH the August after graduating college from SUNY The College at Brockport and passing the NCLEX.When I started at SMH, I was a part of the ERs nurse residency program. I was one of twelve new graduates who
When I started at SMH, I was a part of the ERs nurse residency program. I was one of twelve new graduates who were excited and nervous to be starting our first nursing career. The amount of knowledge and nursing confidence I have gained in the past 13 months is unbelievable. Never would I have imagined the growth and change I have seen within myself in such a short amount of time. I have pushed myself mentally, physically, and emotionally.
When I decided I wanted to be a nurse, I realized (or at least thought I did) how tolling it could be on me both emotionally and physically; but never could I have imagined the things I have seen or the situations I have been a part of. Emergency nursing is hard, but it also so rewarding. Being there for people and their families during their worst and scariest times is a privilege and I am honored to be a part of it.
I'm originally from a small town in the Finger Lakes region called Clifton Springs, NY. I grew up in a family where both my Mom and Dad are Registered Nurses. As you can imagine, family dinner conversations were not like most of my peers growing up. My Mom is also an Emergency Room nurse at a neighboring hospital in Rochester and my Dad is a home care nurse for an agency called Lifetime Care.
Having two parents who are in the same field as me has given me an advantage emotionally, in my opinion. Being able to have not one, but two people in my life who can help me unwind and can truly understand how stressful and emotionally straining work can be is priceless.
Throughout my transition from student nurse to registered nurse and my first year of my career I have made a top ten most important pieces of advice for new nurses to consider:
1. Don't be afraid to ask questions; no question is ever stupid. These are people's lives you have in your hand. Question things if you're not sure of the answer or are not comfortable with the plan. Also, don't be afraid to ask for help; there's always someone there for you if you're overwhelmed with your assignment or simply just need some help.
2. Nursing is a thankless job, but don't let that discourage you.
3. Don't be afraid of doctors or providers. They are your ally; not enemy.
4. Sleep is IMPORTANT. Between working and commuting 12-13-14 hour days are harder on your body than you can imagine. You need sleep to make sure you're able to make smart and clear decisions during patient care.
5. Good shoes and compression socks are also important; you can't take care of others if you're not properly taking care of yourself.
6. Make an effort to make good friends at work; work friends are essential. They make those hard days a little easier.
7. Continuing your education and receiving more certifications is important. The idea of continuing your education after you've finished nursing school is nauseating, but after you settle into your career it's important to realize that the medical world is forever changing and keeping up to date on policies and procedures is beneficial to your nursing skills
8. Your job is to advocate for your patient. Do NOT forget that.
9. Vacations and time off are essential. Nursing is hard. You need time to have fun and forget about the stressors of work.
10. Candy and coffee are magical.