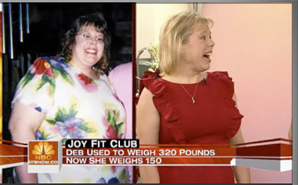 An East Texas-based nurse has showcased her dramatic weight loss on NBC's "Today" show.
Deb Taylor, 38, is a registered nurse and the divisional director of Trinity Mother Frances Heart Institute at Trinity Mother Frances Hospitals and Clinics. On the Today Show, she told viewers how she had turned to food after having been raped.
When Taylor realized she wanted to "stop being a victim," she focused on repairing herself emotionally and vowed to lose the weight she had gained. In one year, she lost 170 pounds through diet and exercise – walking 20 minutes on a treadmill daily and restricting her diet to 1200 calories/day.
She once weighed 320 pounds, now she weighs 150 pounds.
"If I can make a change, anyone can make a change," she said. "No one else is going to do it for you. I want to inspire them and if I can have a positive impact on one person, that will make my experience that more rich."
Are you up for a transformation? Subscribe to our newsletter and you could win a scrubs makeover…your pick of top, bottom and Zone shoes from Cherokee Uniforms!
[Source: Coshandra Dillard of the Tyler Morning Telegraph and NBC's Today Show]
Sponsored by Cherokee Uniforms