Nurse Training Sites & Online Resources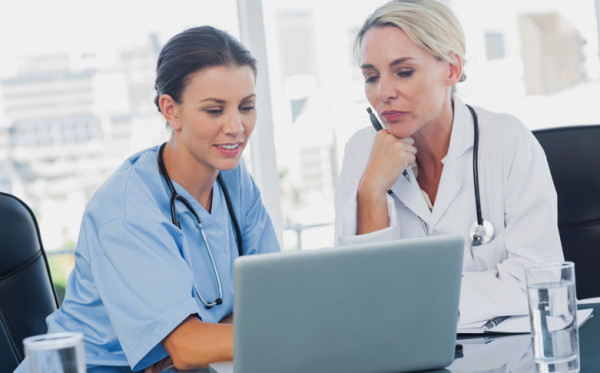 Registered Nurse General Information
Choosing a nursing career is a very exciting and rewarding path in helping patients and working with a professional team. Understanding what training to be an RN entails will help you discover if a nursing career path is for you. Nurses do a variety of things depending on what specialty is chosen, but all nurses are trained to take blood pressure, administer medicine, do physical exams, ask questions about health history and care for their patient. Nurses work in hospitals, retirement homes, private practices and patient homes. Listed below are a few links to help better understand what getting a nursing education means.
RN Education
The first step in getting a nursing education is choosing what school to go to. Training to be an RN involves many biology, science, health, and nursing classes. Students will also have hands-on experience called clinical and hours of training before graduating. There are great accredited schools out there that offer nursing career degrees. Choosing a school in your state of residency can save thousands of dollars, but more importantly look for a school that offers a great program to ensure a job quickly out of school. Here is a small list of schools that offer nursing education programs.
American Association of Colleges of Nursing
The Catholic University of America
New York State Nursing Programs
Nursing Professional Groups
There are several nursing organizations out there to offer support, advice and plenty of information on nursing. While training to be an RN it will be comforting to have an entire society of nurses to answer questions and even advice on choosing one of the many nursing specialties out there. American Nurses Association is just one of the groups that offer free career advice and also information on ethics, policies, health and safety. Even after school, these organizations have local jobs listed along with tips on spicing up your resume and getting that dream job.
International Council of Nurses
Nursing Specialties
The exciting thing about nursing is how broad of a career it really is. There are many different types of jobs out there all depending on the nursing specialties chosen. During school, students will be exposed to all types of specialties and this experience will help guide them to choose a job in the area they like most. Neonatal nurses care for premature newborn babies, while a geriatric nurse cares for the elderly. Oncology covers cancer patients and a cardiac care nurse cares for those suffering from heart disease. Knowing what type of place you want to work in, can help narrow down which nursing specialties are for you. Some job environments can be high-stressed and unpredictable. An E.R nurse is going to have a completely different day than a pediatric nurse. Hospitals are typically fast paced while private practices and nursing homes usually have more of a scheduled routine. Most importantly, find what you love and are most interested in and decide on a nursing specialty from there.
American Board of Nursing Specialties
American Association of Critical-Care Nurses
Credentials and Certifications
After getting a nursing degree there are certain tests to take to become an actual RN. These credentials make it possible to work in hospitals and doctor offices. Certifications are there to ensure nurses are qualified to do the work. Getting certified in several specialties opens up the job pool and makes your resume more attractive. Choosing to focus on one specialty and getting certified in it will make that nurse more of an expert in that field.
Nursing Career Info and Advice
An RN is two years of nursing courses and clinical hours, but when combined with two years of other courses it is a BSN Bachelor's of Science in Nursing. Most hospitals and doctor offices are looking for BSN applicants and it is suggested to get a bachelor in nursing. Many nurses have to start out at the bottom and work the night shift until they have enough hours and experience to get on the day shift. The only way to find out if you like working in a specific environment is to try out and go from there. There are wonderful resources out there to help choose where to get a job and what nursing specialty to focus on.